Rogers Rewind: Week Two
Columns
What's Included:
• Five Things That Stood Out
• Takeaways from Miami-Florida Series
• National Nuggets
---
1. UCLA passes big road test
We said the Bruins would be tested over the weekend in Atlanta, and they certainly were on Friday. Georgia Tech won the series opener over the Bruins on a Kyle McCann walk-off home run, but that apparently only motivated UCLA to come out like fire-breathing dragons the rest of the weekend.
UCLA won Game Two with freshman Matt McClain hitting his first career home run and Jack Ralston putting together a solid start on the mound for a second-straight week. The Bruins bullpen also impressed. The Bruins kept the foot on the pedal in the series finale, as freshman righthander Jesse Bergin was outstanding, striking out four, walking two and allowing just two hits in six shutout innings in a 6-0 win.
Overall, the Bruins allowed six runs in three games to a good offensive club in Georgia Tech. And most impressive? John Savage's pitching staff has now allowed just nine runs in seven games.
It's safe to say the Bruins are the real deal.
2. A surprise in Tennessee
It wasn't that surprising the Volunteers swept Appalachian State at home to begin the season, though, their pitching numbers certainly caused us to raise our eyebrows. But this weekend's series against Indiana told us a lot — this Vols team appears to be for real.
The Hoosiers are one of the better teams in the Big Ten, and a club that we considered, to an extent, for our Top 25 rankings. And the Volunteers made very easy work of them this weekend, outscoring IU 21-4 in three games to earn an impressive series sweep.
The pitching staff was great Garrett Stallings struck out nine, didn't allow a walk and allowed just a run and five hits in seven innings in the series opener, while righthander Zach Linginfelter continues to have quite the rebound year in his new role as a starter. Linginfelter struck out 13, walked two and allowed just two hits in six shutout innings. In the series finale, Will Neely was lifted after just 2.2 innings, but lefty Garrett Crochet, a premier prospect, was outstanding out of the bullpen, striking out nine, walking one and allowing just a run and two hits in 5.1 innings.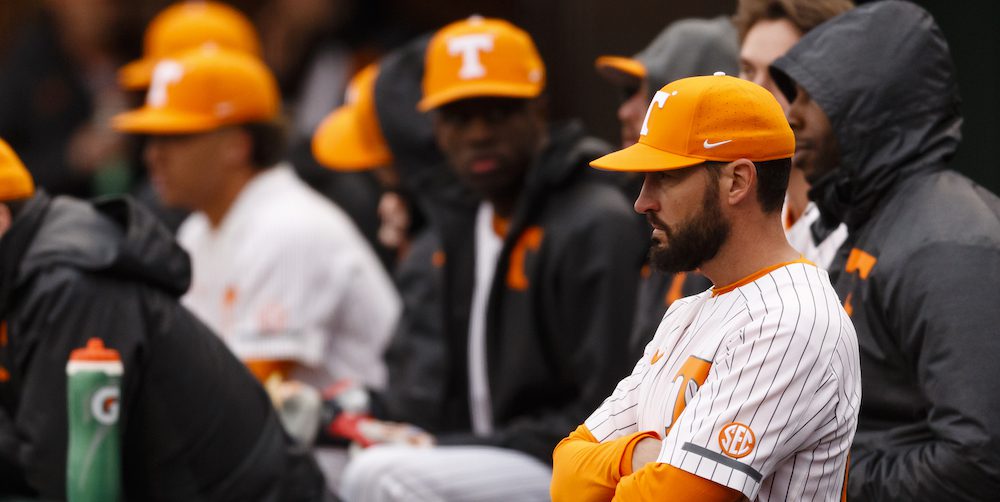 Tennessee has swept back-to-back series to begin a season for the first time since 2014, while it is 7-0 with some winnable weekends ahead before SEC play begins. And that pitching staff that pitching coach Frank Anderson is working magic with? They've allowed just four runs in seven games. Furthermore, our Eric Sorenson had this in his story from last night — the Vols have given up just four earned runs on 27 hits in 63 combined innings, along with 89 strikeouts and just 12 walks. Yeah, that's impressive.
What a storybook start for the Vols.
3. Rice's rebuild might take a while
We had the Owls in our Preseason Field of 64, but unless something changes over the next few weeks, that prediction will prove to be wrong.
To say the Owls have struggled to begin the Matt Bragga era would be an understatement. The Owls took two of three from Rhode Island opening weekend but had an awful past week. Rice allowed 27 runs in a pair of midweek losses to Texas and Arizona before struggling again over the weekend against UC Irvine.
The Owls were outscored 29-9, at home, by the Anteaters. Rice righthander Matt Canterino struggled in the opener, allowing six runs in 4.2 innings, while the lone positive right now seems to be sophomore shortstop Trei Cruz, who's hitting .382 with two triples, three home runs and 11 RBIs. As a whole, the Owls are hitting .238 and the pitching staff has a 5.38 ERA.
Rice has a huge upcoming weekend at the Shriners College Classic. This is a must-win weekend for postseason purposes when you consider the Owls' Conference USA slate.
The Owls must find a way to establish consistency.
4. Oregon earns sneaky good series sweep
After the Ducks gave Texas Tech all it could handle two weekends ago in Lubbock, I was intrigued to see how Oregon would follow up against a high-quality St. Mary's club at home this past weekend.
Well, the Ducks past that test with flying colors, sweeping the Gaels with two of the three games being one-run affairs. UO took care of business against the Gaels without righthander Kenyon Yovan, who missed the weekend with a sore hand. It didn't matter.
Cole Stringer performed at a high level in the series opener, striking out six, walking two and allowing a run and three hits in six innings, while hard-throwing Ryne Nelson struck out nine, walked tow and allowed a run and four hits in six innings in Game Two. Then, in the finale, Cullen Kafka had a quality start, striking out seven and allowing three runs on five hits in six innings.
Arizona State and Oregon were two teams that had potential, on paper, entering the season, and both have been very good through the first two weeks.
We'll see if that trend continues, but the weekend sure was promising for George Horton's club.
6. Power conferences look deeper than ever
We're only two weeks into the season and things can certainly change, but the power conferences look stacked from a depth standpoint. Let's look at some of the unexpected teams impressing in those power leagues.
Pac 12 (51-24 NC Record): Arizona State and Oregon are off to terrific starts this spring, while Arizona and Washington have earned solid reviews as well. At the moment, the Pac 12 has seven teams with legitimate postseason hopes. We'll see if that trend continues.
SEC (76-21 NC Record): Tennessee is off to a 7-0 start and has been pitching at a high level, while keep an eye on Alabama. The Crimson Tide are 5-2 and took a series from a decent Ball State club over the weekend. The SEC looks 11-teams deep at the moment with potential for more.
Big 12 (46-19 NC Record): Oklahoma is coming off a 2-1 weekend and is 6-1 overall with Cade Cavalli and others leading the charge. The Big 12 looks six deep right now, and keep an eye on West Virginia, which is just 4-3 but has one of the nation's premier arms in Alek Manoah.
ACC (67-26 NC Record): The ACC has looked strong so far this season and looks like a 10-deep league at the moment. Wake Forest has been slow out of the gate, but should be fine, while Miami, NC State, Georgia Tech and Duke are all quality teams who began the season unranked. Also keep an eye on. Virginia, which has enough talent to make a run.
Big Ten (45-41 NC Record): Minnesota is off to a slow start with back-to-back bad weekends, but conventional wisdom suggests the Gophers will be fine moving forward. The league as a whole is off to a solid start with Michigan and Illinois leading the way and Ohio State showing promise. Indiana is another team, like Minnesota, that should get its act together.
---
Gainesville Takeaways: Miami vs. Florida
Florida dropped the series opener to Miami on Friday night, but battled back in the middle innings on Saturday to win and won the series finale over the Hurricanes on Sunday, 4-1. UF has now won five-straight series over the Hurricanes, with the last series loss coming in 2014 in Miami. The last series loss in Gainesville? 2009. The streak continues.
• Florida just had the best closer in school history in righthander Michael Byrne, but freshman righthander Nolan Crisp could challenge for that record before his time in Gainesville is done. Crisp already has four saves this season, and he had two this weekend against the Hurricanes. I loved what I saw from Crisp over the weekend. The 5-foot-9, 175-pounder, who should still be in high school but opted to enroll early, takes the mound with confidence and like someone who knows he's about to strike you out. There's just a presence about him. Crisp sat 91 mph with his fastball, while he threw a steady diet of 78-79 mph sliders on Sunday. Crisp struck out two of the three batters he faced in the ninth — one on a 79 mph slider and the other on a 91 mph offering. O'Sullivan had a big smile on his face when I asked him about Crisp after the game.
"He's supposed to be a high school senior and he already has four saves for us. He's just really, really competitive and he's got tremendous pace," O'Sullivan said. "He's a bulldog, and frankly, there's a lot to be learned for the older guys [on the pitching staff]. I hope our older guys are watching the way he works out there.
"He's supposed to be pitching against high school teams right now, and he's out there pitching in front of 6,000 people last night, and he keeps his composure," he continued. "He's one of those guys everyone has trust in when he goes into the game. Win, lose or draw, you know what you're going to get from Nolan."
• Florida had several freshmen in the lineup throughout the weekend, so that's why you see so many mentioned. The most impressive freshman was outfielder Kendrick Calilao. The 6-foot-1, 205-pounder, as I mentioned on Friday, put together an impressive performance in batting practice that day. And he didn't disappoint the rest of the weekend, hitting a team-high .583 for the weekend, along with two doubles, a triple, a home run and six RBIs. He had a .538 OBP. Calilao showed a mature offensive approach with an ability to spray the ball all over the field with power. He generates hard contact in most of his at bats and left a strong impression.
"He committed to us as a sophomore and he stays balanced, and his batting practices are always on point," O'Sullivan said. "And I think the most interesting thing to me is that while he had a strong weekend stat wise, he used the whole field, too. 
"Miami did a really nice job going back and forth on him," he continued. "They tried to change their approach against him after the first couple of at bats on Friday, and I thought he did a really nice job of making in-game adjustments."
• Speaking of youngsters, redshirt freshman Brady McConnell and Cory Acton also did some good things over the weekend. McConnell showed a mature approach in the series opener and beat one of Miami's many shifts for a base-hit, while he finished the weekend with a .400 average. Acton only hit .250 for the weekend, but still showed a solid approach and is tooled up. Meanwhile, Jud Fabian, another guy who should still be in high school, was impressive. Fabian hit .333 for the weekend, but I was most impressed with his ability in center field. He made at least two terrific catches out there and showed excellent instincts with good routes to the baseball.
• In Sunday's series finale, Florida righthander Jack Leftwich struck out seven, walked two and allowed a run and five hits in five innings. Miami, as it did all weekend, did a terrific job of getting his pitch count up to 95 after five frames, but he still had a solid performance. Leftwich left a fastball over the plate to Miami fab freshman Adrian Del Castillo for the only run of the game. The righty was 91-93 and up to 94 mph with his fastball, while he showed the usual excellent feel for an 80-84 mph slider that had some late tilt to it. Leftwich also attacked hitters with a changeup at 86-87 mph.
"He was good. I thought Miami did a good job of running his pitch count up. But I thought his stuff was fine," O'Sullivan said. "He had a situation where he walked the eight and nine-hole hitters, but it's early in the season and historically the second start isn't as crisp as the first.
"To have him, a guy like that in our rotation on Sundays is big," he continued. "We've had some quality No. 3 starters in the past, when you look at Kowar and others, and those guys help you win series."
• It will be fascinating to see what Florida does with its weekend rotation once SEC play begins. Tyler Dyson was rusty the first two weekends, and I could see the Gators moving things around with the way Tommy Mace is pitching right now. Mace is pitching with confidence and electric stuff. He was up to 94-96 mph with his fastball on Saturday and showed very good overall stuff. Of course, Miami's Chris McMahon also was impressive with a fastball up to 96. But the Gators might be wise to move Mace to Friday and perhaps Dyson to Saturday to take some pressure off him entering league play. Dyson will have a chance to keep his Friday night job the next couple of weeks, but Mace is hot on his heels. Speaking of the starts by Mace and McMahon, O'Sullivan told me after today's game, quote: "Those were two future big leaguers going at it last night. They were big time."
• O'Sullivan touched on the offense and the overall learning curve for this offensive lineup. The Gators entered Saturday's game scuffling in a big way from an offensive standpoint. However, tempers flared between the two teams, Wil Dalton got a couple of huge hits and the Gators were a different club the rest of the weekend. With so many young players in the lineup, O'Sullivan knows this offense will have many ups and downs. But it's all about how they are doing at the end of the season. UF is hitting in the 220s for the season but hit .268 against the 'Canes.
"I think Wil's at bat on Saturday changed the whole complexion of the weekend to be honest with you. It got the fans into it, and it's frustrating, you're watching us play and you're getting four hits and scoring one run a game. It gets to be a little frustrating for everyone," he said. "But I thought his AB loosened everyone up and energized everyone. It set the tone.
"Yeah, I think there were a lot of lessons learned this weekend. Wil's hit, I think, gave our guys some confidence," he continued. "We hit in the fall, in the preseason, but everyone goes through difficult times. We don't go through many stretches where we lose three-straight games early in the season, so this type of series will help us going forward."
• Miami coach Gino DiMare raved about freshman Adrian Del Castillo leading up to the season, and it's easy to see why. Del Castillo hit a no doubter off Jack Leftwich on Sunday and looked the part throughout the weekend. The 5-foot-11, 205-pounder, has a physical frame with big-time power. But I think the most impressive aspect of his game is his mature offensive approach. Del Castillo isn't up at the plate just hacking at pitches and making hard contact. He's very selective with his pitches, he can spray it all over the field, and everything off his bat is hard contact. Del Castillo is now hitting .375 with a home run and 10 RBIs this season, and O'Sullivan said after the game he hasn't seen as advanced of a freshman power hitter as Del Castillo in a while. The hard-hitting freshman has a bright future.
• Alex Toral is going to have a monster year for the Hurricanes. Yes, the Gators had more success in their approach against Toral the final two days of the series, but he still looked the part. Just like Del Castillo, the hard-hitting lefthanded slugger made extremely hard contact throughout the weekend and isn't relegated to his pull-side. He also showed the ability to go opposite field with hard contact as well. He has five home runs already this season, and I'd expect that number to be in the 14-16 range by June.
• We got a look at Miami righthanders Brian Van Belle and Greg Veliz in the series finale. Van Belle was intriguing. He has a lean 6-foot-2, 180-pound frame and he showed some impressive poise on the mound. He allowed two runs on three hits in six innings and was in command for the most part. Van Belle doesn't have overwhelming stuff, but he does know how to pitch. He sat 87-90 mph with the fastball, while also showing feel for the slider and the changeup. Meanwhile, Veliz has an impressive frame and came out of the bullpen with some serious energy. The hard-nosed righty gave up a home run to Calilao but showed a promising arm. He sat 92-93 mph with his fastball, while also throwing several decent sliders at 82-83 mph. Daniel Federman is another intriguing Miami arm to watch. The 6-foot-1, 200-pounder, has a physical frame and sat 91-93 mph with his fastball at a downhill angle over the weekend. He also showed a mid-80s slider.
• Overall, I have no doubt Miami is a regional team and perhaps even more. The Hurricanes need a bit more balance in the offensive lineup, but catcher Michael Amditis had a nice weekend and Del Castillo and Toral are going to cause many headaches for opposing teams throughout the year … Miami has some quality bullpen depth and the starting rotation has a chance to be special. Evan McKendry and Chris McMahon were both terrific in their own ways, while Van Belle is a strong option as a Sunday starter. He fits the mold. I'm impressed with the job Gino DiMare and his staff have done with this team thus far. They are a team on a mission and are vastly improved.
---
National Nuggets
• Clemson is off to a strong 6-1 start this season, and freshman two-way talent Davis Sharpe is a big reason for that. Sharpe, a 6-foot-3, 210-pounder, has been outstanding on the mound so far this season, having yet to allow a run in two starts and 11 innings. Sharpe has struck out 19, walked four and allowed three hits. Stuff-wise, the righty has been 88-90 and up to 91-92 mph with his fastball, while also showing the slider as a plus pitch at times. He'll show hitters a changeup as well. While Sharpe's production on the mound is most noteworthy, he's also a quality hitter with big-time hitter. Clemson needed some young players to step up to have success this season, and Sharpe and others are guiding the way so far this spring.
• I put this in my Auburn-UCF story from a couple of night ago, but Auburn junior righthander Davis Daniel will miss the next few weeks with a flexor pronator strain. Tests on his elbow came back negative for structural damage, so that's good news for the Tigers. But Butch Thompson isn't going to take chances with the hard-throwing righty, so I wouldn't expect to see him back on the mound until a few weeks into SEC play. The good news? The Tigers might've found his replacement, for now, in lefty Jack Owen, who was 89-91 mph with this fastball, along with a solid curveball and changeup against UCF.
• Kentucky had a tough showing on the mound against a hard-hitting Texas Tech team over the weekend, but a tip of the cap to outfielder Ryan Shinn, who had a weekend to remember. Shinn reached base in 10 of 12 plate appearances and finished the series with a .750 average, three doubles, a home run, four runs scored and three RBIs. He also reached base his first seven at bats against the Red Raiders. 
• Noah Song appears to be the one and only bright spot for the Midshipmen so far this spring. Navy is sitting at 1-5 after the weekend, but Song put together yet another amazing performance in a win over Air Force. Song struck out 14, walked two and allowed three hits in six shutout innings. He also threw 99 pitches. How about these video game numbers? Song has struck out 26, walked six and allowed no runs in 11.2 innings, while teams are hitting him at a .146 clip. That's how you start a season. Now, if the rest of his team could follow suit.
• Speaking of big-time pitching performances, how about Mississippi State lefthander Ethan Small and Michigan's Tommy Henry? The two talented prospects were outstanding over the weekend, with Small striking out 13 and allowing just one hit in seven shutout innings against Southern Miss, while Henry struck out 13 and allowed one hit in a complete game performance. MSU as a whole had a strong weekend on the mound with Small and freshman sensation JT Ginn both throwing particularly well.
• After two weeks of action, there are 18 undefeated teams in college baseball. They are: Indiana State, LSU, North Carolina, Oregon State, Arizona State, Tennessee, Virginia Tech, Illinois, Richmond, California Baptist, Georgia, Gardner-Webb, Michigan, Penn State, NC State, New Jersey Tech, Baylor and Florida State. 
• The Pac 12 is off to an outstanding start this spring, and Arizona State slugger Spencer Torkelson and California's Andrew Vaughn continue to tally outrageous numbers. Torkelson is hitting a team-best .548 with two doubles, a home run and 15 RBIs, along with a 1.266 OPS, while Vaughn is hitting .524 with a double, three home runs and nine RBIs, along with an impressive 1.714 OPS. Even with those two red-hot, Adley Rutschman continues to hit well for Oregon State, while Alex McGarry has been the surprise for the Beavs with a high average through the first two weeks.
• How about Cal Baptist? The Lancers are making the transition to Division I Baseball, and they just might be a force moving forward. The Lancers are off to a terrific 9-0 start after sweeping Northern Illinois opening weekend, beating Kansas State in midweek action and sweeping Ohio at home over the weekend. Angel Delgado has been outstanding on the mound with 15 strikeouts and just two walks, along with no earned runs allowed in 12 innings, while offensively, Luke Navigato is hitting .421 with four doubles, three home runs and 11 RBIs. CBU's stiffest tests will come in a few weeks against UCSB and Grand Canyon.
• It is entirely too early to pay attention to the RPI, but if the regular season ended today, this would be the top 10 in the RPI.
Texas Tech, Oregon, South Alabama, Troy, Indiana State, Connecticut, LSU, North Carolina, Clemson and Ole Miss, with the Pac-12 trio of UCLA, Oregon State and Arizona State just outside.
Join the Discussion