Vanderbilt Guts Out Much-Needed Win Over TCU
LOS ANGELES — In a game full of bad breaks and tough luck, the Vanderbilt Commodores got a little bit of grace from the baseball gods to pull out a bottom-of-the-ninth 4-3 win over TCU. It was the third one-run game of the weekend for coach Tim Corbin's charges and he sounded like a man who needed to have some good fortune go his way before he got out of town.
The Commodores finally broke through with the game-deciding runs when nine-hole hitter Carter Young drew a bases-loaded walk from TCU's Haylen Green, plating Spencer Jones with the final marker of the game.
Carter Young gets mobbed after earning the game-winning, bases-loaded walk.
"We just played three one-run games here," Corbin said. "Our offense right now, we're still learning. We've got a long way to go to construct that mountain. It's going to take some time but it's something we knew going into the season. We knew that runs were probably going to be difficult to get at the beginning."
Corbin is right about that. In 27 innings of this weekend's SoCal Classic, the Commodores managed just seven runs on 14 hits. And they played most of the weekend without top hitters Austin Martin and CJ Rodriguez, who came into these three games with averages of .362 and .308 respectively.
But on the other end of the spectrum, Corbin did say that his team "can pitch well and play really good defense." That is oh-so-true. In those same 27 innings, the Commodores have allowed just eight runs on 17 hits and committed just two errors. Coming into this weekend the Commodore arms corps had a team ERA of 1.69 and a .972 fielding percentage. That will keep you in every game, just like it did here in Los Angeles this weekend. 
Things didn't start great, then got a little worse, before the end finally went VU's way. Highly-regarded freshman Jake Leiter had a rather inauspicious day, plunking the first batter (Sam Thompson) he faced and giving up an RBI double to the second batter (Tommy Sacco) to immediately put the Dores in a hole. Vandy tied things up in the bottom of the fourth inning on a bases-loaded walk to Justin-Henry Malloy. 
But the fifth frame was where things turned into an upside-down horseshoe. After getting two quick outs, Leiter induced what looked like a harmless pop-up to shortstop Carter Young. But the ball flew perfectly into the white-hot sun and Young completely lost it. Base hit for Porter Brown. Then came two straight walks to load the bases, still with the two outs mind you. Gene Wood's sharp bouncer to second baseman Harrison Ray couldn't be handled clean and a run scored. Then, showing some frayed nerves, Leiter issued a bases-loaded walk of his own, 3-1 Frogs. 
That was when Leiter got the hook. 
Frosh phenom Jake Leiter gets props coming off the field after getting pulled in the fifth inning.
"That was a tough inning," Corbin said. "He went from a 1-2-3, eight-pitch inning to a two-run inning. That was a gut punch right there."
But credit the Commodores as they took that adversity and turned things around a half inning later, plating two runs on the strength of Isaiah Thomas' two-run double down into the left field corner. And just like that, this was back to a 3-3 tie. 
"For us to come right back and throw a counter-punch like that, that was good for our own psyche," Corbin said. 
Reliever Thomas Schultz had the most important role of the day for the Commodores has he was able to come in and get a big strikeout to get out of a bases-loaded situation to close that fifth inning. And later, after giving up an infield single and a double at the start of the seventh inning, and eventually facing another bases-loaded, one-out jam, he countered with a pair of clutch strikeouts to keep the score tied. Huge. 
Vanderbilt's offense went three-and-out in each of the sixth, seventh and eighth innings, before finally able to put something together in the ninth. 
With the infield doing one of those familiar "shifts" toward right that you see so often nowadays, freshman Spencer Jones cooly laced a laser line drive down the left field line, making it an easy stand-up double for the 6'7" strapper. He then beat out a fielder's choice at third as TCU reliever Haylen Green fielded Parker Noland's bunt and tried to get Jones at third, but threw too high to nab him. After another walk, the bases were loaded with no outs and the Commodore dugout was abuzz. 
Sure enough, nine-hole hitter Carter Young was able to cull another base-on-balls from Green and Jones strode away with the game-winning run on a leisurely walk. 
Spencer Jones celebrates his 9th inning double while TCU's Grey Rodgers looks on as if to say "What the hell are you doing?"
Spencer Jones beats the throw to third with his surprising speed, setting up the game-winning run.
"He's a confident kid," Corbin said about Spencer Jones. "He's gonna be a really good player 'coz there is a lot of things he can do. And that was a heck of an at-bat just to stay over the ball like that and just take what the pitcher gave him."
Now a quick look at what jumped out at me about the day in college baseball…
THE FAST & FURIOUS FIVE
Five things that jumped out to me about the day in college baseball.
– Did Notre Dame really just sweep North Carolina?  
Wow, didn't see that coming. I saw the Tar Heels last week in Minneapolis and yeah, they scuffled a little bit. But to have the Irish come down on the opening weekend of ACC play and win all three games? Egad. 
– A lot of traditional powers got a lot worse this weekend. 
Rice, Cal State Fullerton and Oregon State all went winless against Texas Tech, Texas and UCSB. In addition to that, Stanford lost three of four to Kansas State. Those four teams are now 2-13, 4-12, 5-9  and 5-11 respectively. Ugh.
– Wright State wins a series at Tennessee
It seems like the Raiders pull off a big weekend upset every year. This time around they handed the Vols their first two losses.
– San Diego State is still a very strong under-the-radar mid-major. 
The Aztecs came THISCLOSE to winning a series at No. 15 Oklahoma, dropping Sunday's getaway game 9-8 in 11 innings. Tony Gwynn U. also beat Long Beach State in the midweek and sit at 10-6 right now, playing a pretty tough early slate. Just a team to keep in mind as the weeks go by. 
– Gators stay perfect
Florida edged South Florida 2-1 on Sunday, powered by freshman catcher Nathan Hickey's fourth home run in four straight games. The Gators are the last remaining unbeaten team in Division I at 16-0.

WHAT I SAW AT DEDEAUX FIELD
The Vanderbilt Commodores stayed mentality tough and gutted out a 4-3 win over TCU to salvage their weekend here in Southern California. In the second game of the day, the UCLA Bruins lambasted cross-town rival USC 15-3. Here is how the first game went.
GAME ONE
LINESCORE:
T.C.U. – 100 020 000 – 3  7  0
Vandy – 000 120 001 –  4  6  1
PITCHING
WP: Tyler Brown, 1-2
LP: Drew Hill, 2-1
Save: None
TOP HITTERS.
Horned Frogs: 
– Tommy Sacco, 2-for-4, 2B, RBI
– Zach Humphreys, 1-for-2, 3BBs
Commodores: 
– Cooper Davis, 2-for-4
– Isaiah Thomas, 1-for4, 2RBI
– Spencer Jones, 1-for-2, 2B
RECORDS:
– TCU, 11-4
– Vanderbilt, 12-5

NOTES 
– UCLA like an SEC environment?
Wanna make a fan in the SEC super-angry? Tell them that a game in the Pac 12 is like playing in an SEC environment. Well, SEC fans, point your anger toward Vanderbilt head coach Tim Corbin. After today's game with TCU, the Commodore maestro said, "I thought the environment at UCLA was really good, it was an SEC environment and that's good for our kids to see. Yesterday's environment (at USC) was good too."
– Speaking of the road. Corbin likes it.
I've always admired Coach Corbin and his commitment to playing games well out of his comfort zone. He has traditionally brought his teams out West to play games against unfamiliar opponents. And he seems to do it every year. This year, he had his team open at a tournament in Arizona, along with this weekend's SoCal Classic. You have to admire that. 
About his scheduling practices he said today, "It's good to come out here and play against a different style of baseball and play against three very good programs. It just helps. It helps us to play a tough schedule right now. We start conference play next weekend.There is so much value to going on the road and playing outside of your comfort zone. We need to get punched, so that we understand what we need to do to get better. If you don't then sometimes you get three-quarters of the way through the season and you don't know who you are. You get a false sense of security and that is never good. You want to know what you are, even if it's looking in the mirror and say, 'Oh my god I don't look very good right now, maybe we can put some makeup on my face and look better at the end of the year."
– What makes Tim Corbin smile. 
As I posted on Twitter earlier today, one of my life goals was met today when I made Coach Corbin smile. Sure, he didn't laugh or guffaw, but I did make him smile. And how did I do it? I asked him what his thoughts were on the Boston Bruins having the best record in hockey right now. 
"Oh you know I like that. It's priority No. 1. It supersedes everything, family, work, everything." 

PICS
A few additional images from today's first game. 
Sam Thompson comes back to a very exuberant dugout after scoring a run. Gotta love the Froggy enthusiasm.
Isaiah Thomas nabs a huge catch at the wall on a shot by Gray Rodgers.
TCU starter Russell Smith gives a guttural yell after an inning-ending strikeout.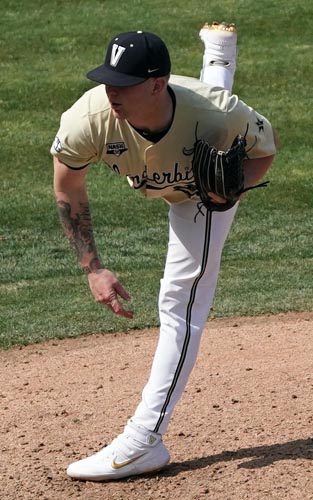 Tyler Brown and his sizable right arm tattoo picked up his first win of the season with his four-up, three-down ninth inning.
Join the Discussion