Seifert's Prospect Mailbag: Jan. 9
Featured

Have a prospect question for David Seifert? Email him at [email protected] or tweet at him @DSeifertD1PBR
---
I just watched the Coffee & Curveballs cast from the ABCA convention where you mentioned a few of the top round sophomore-eligible prospects this year. Who are some of the others you did not mention?
In case you missed the cast, you can find it here- Coffee & Curveballs. We discussed a potential top 10 overall pick, lefthander Ryan Rolison (Mississippi), as well as righties Zack Hess (Louisiana State), Blair Henley (Texas) and Jon Heasley (Oklahoma State). Centerfielder Zach Watson (LSU) was also included in our discussion.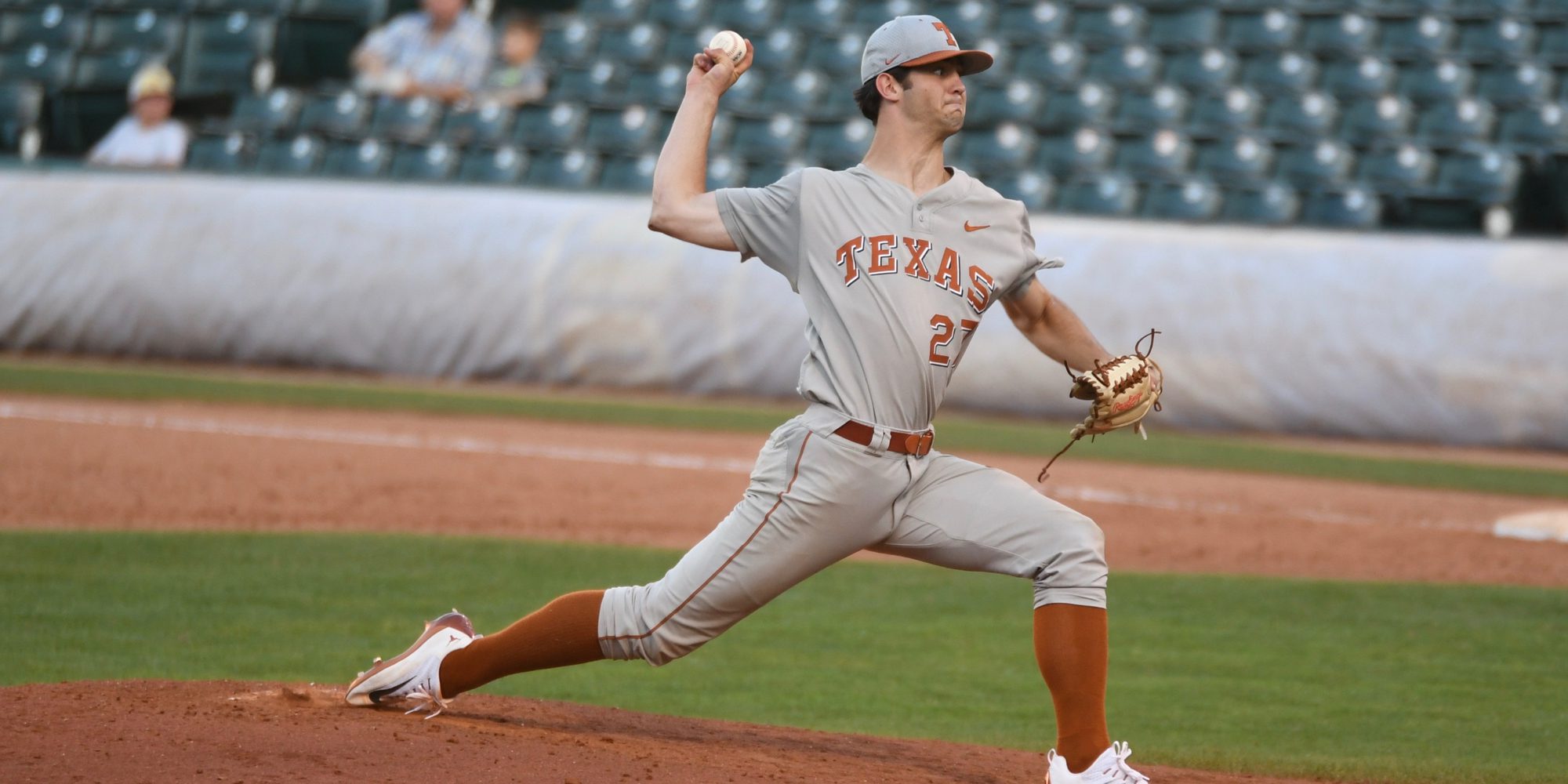 Texas righthander Blair Henley is a top sophomore eligible prospects. (Aaron Fitt)
Additional top round sophomore-eligible prospects include; righthanded pitchers Austin Bergner (North Carolina), Zach Linginfelter (Tennessee), Gregory Veliz (Miami, Florida), Reid Schaller (Vanderbilt), Caleb Killian (Texas Tech), Cody Morris (South Carolina), outfielder Carlos Cortes (South Carolina), catcher Lyle Lin (Arizona State) and two-way talent outfielder/lefthanded pitcher Evan Lee (Arkansas). Big armed righthander, Dalton Feeney (North Carolina State), recently had Tommy John surgery and will not pitch this spring, but is eligible to be drafted as well. Overall, it's quite a year for higher round sophomore-eligible prospects.
---
What is your opinion on the use of statistical analysis for the amateur draft?
Analytics for the draft are informative, useful and are here to stay. When implemented correctly, they provide a huge boost to an amateur scouting department. I am a strong supporter of analytics when it is used to supplement the entire evaluation of a prospect. Just like a health history, vision test, personality/psychology test or other means used to judge a prospect. I oppose analytics when they are used as the main source for the evaluation, especially when a scout has seen the player, scouted the tools and does not have interest. Believe me, it does happen, and it's a demoralizing experience for a scout. Overall, I like to call my opinion a balanced and team approach.
---
Which schools could have multiple potential first round picks for this year's draft?
Short answer; there are many this season. The draft offers very few guarantees, but the Florida Gators boast a near sure thing with potential first round pitchers Brady Singer and Jackson Kowar. Both prospects pitch in the low 90s with a plus off speed offering: Singer has a wipe out slider and Kowar features a swing/miss changeup. In the Northwest, Nick Madrigal leads another talented Oregon State club. Whether the Beavers have two first round picks in Madrigal and senior lefty Luke Heimlich remains to be seen. A week prior to last year's draft, news broke of Heimlich's status as a registered sex offender, which occured when he was 15 years old. He was considered a first round talent, but went undrafted. Teams have now had time to do their due diligence. It's hard to predict the outcome this June, but Heimlich is a talented pitcher who has posted outstanding numbers his entire college career. Also, Beaver's shortstop Cadyn Grenier has first round tools, and if he can get his offensive performance to match, history tells us that college shortstops rise in the draft, potentially giving the Beavers another first rounder.
Cadyn Grenier is one of several OSU players who should be drafted high in June.
Other programs with multiple potential first rounders include Texas Christian, Stanford, Kentucky and Wichita State. The Horned Frogs boast the power bat of first baseman Luken Baker, as well as talented starting righthanded pitcher Sean Wymer. The Cardinal could see lefty Kris Bubic, polished shortstop Nico Hoerner and, if healthy, righthander Tristan Beck taken in the first round. In Lexington, the Wildcats also have two potential first round picks. They will send 6-foot-11 Sean Hjelle to the mound on Friday nights this spring with long, athletic bodied outfielder Tristan Pompey hitting in the middle of their lineup. Hjelle pitches in the low nineties with a plus knuckle curve. Pompey had a huge sophomore season for the Wildcats (.361/.464/.541), but struggled this summer in the Cape Cod League (.230/.284/.345). The Shockers saw their two big bats blossom this summer in the Cape, both earning all-star honors. First baseman Alec Bohm boasts a strong combination of power with plate discipline while athletic outfielder Greyson Jenista earned Cape Cod MVP honors (.310/.391/.401).
---
What are the best & worst drafts in recent history?
Off the top of my head, the best draft classes I can recall are the 2009 Angels and the 2006 Yankees. Some drafts like the Dodgers in 2006, when they took Kershaw seventh overall, must also be considered a great draft, but their draft produced him and not much else.
It's awful hard to top the Angels selections of Randal Grichuk (1st round/24th overall), Mike Trout (1/25), Tyler Skaggs (1/40), Garrett Richards (1/42) and Patrick Corbin (2/80), but the 2006 Yankees may have done it based on the depth of ML contributors throughout the draft. The Yankees had only one extra pick at the top of the draft, yet still managed to have a draft for the ages. First rounder, Ian Kennedy has produced a strong ML career as a mid-rotation starter. Joba Chamberlain (1/41) was once a household name and lockdown reliever. Zach McAllister (3/104) and George Kontos (5/164) have delivered solid careers as dependable relievers. As the draft continued, the Yankees selections become even stronger with Dellin Betances (8/254), Mark Melancon (9/284) and finally ace closer David Robertson (17/524). The 2006 draft did not land a franchise player for the Yankees, but it did produce numerous big leaguers who have already combined for 48 years of service time in the major leagues.
As far as the worst draft, the one that comes immediately to mind is Tampa Bay's 2011 draft. The Rays had 10 of the first 60 overall picks. They had numerous extra picks that year as a result of losing multiple free agents (Carl Crawford, Rafael Soriano, Grant Balfour, Brad Hawpe, Joaquin Benoit, Randy Choate, Chad Qualls). This draft should have set up the Rays to replenish their farm system and continue their annual success into the playoffs. But, it hasn't turned up much at all. Seven of their top 10 picks have not reached the major leagues. Lefthanded pitcher Blake Snell, who was their seventh pick, 52nd overall, is the only pick among those 10 who looks like anything more than an up and down major leaguer. Unless Snell turns into Kershaw, the 2011 draft of the Rays will always be known as a historically poor draft.
Actually, 2011 was a year of many bad drafts. It's notorious for being the last year of the draft with no bonus pools. Several teams attempted to capitalize on the unlimited spending, which has delivered mixed results. The Pirates ($17 million), Nationals ($15M), Royals ($14M), Cubs ($12M), Diamondbacks ($11.9M), Rays ($11.5M), Mariners ($11.3M), Padres ($11M), Blue Jays ($11M) and Red Sox ($11M) were the biggest spenders. The Cubs (2016) and Royals (2015) won World Series. After a 2013 World Series title, the Red Sox also won AL East titles in 2016 and 2017. The Blue Jays made an appearance in the 2015 ALCS, yet the top major league performer from their 2011 draft has been senior sign and 32nd rounder Kevin Pillar. The Nationals drafted Anthony Rendon (sixth overall), but found very little else for their $15M. For others like the Pirates, who have Gerrit Cole, Josh Bell and Tyler Glasnow to show for their $17M, the money has resulted in mild success with a couple early round playoff appearances. While clubs like the Padres and Mariners it has not worked out so well; zero playoff appearances between them.
Join the Discussion