| | | | | | | | | | | | | | | | | | | |
| --- | --- | --- | --- | --- | --- | --- | --- | --- | --- | --- | --- | --- | --- | --- | --- | --- | --- | --- |
| Year | Team | W | L | ERA | APP | GS | CG | SHO | SV | IP | H | R | ER | BB | SO | WP | HP | OBA |
| 2017 | | 0 | 3 | 6.09 | 19 | 6 | 0 | 0 | 1 | 44.1 | 53 | 34 | 30 | 26 | 30 | 3 | 3 | .306 |
| 2018 | | 3 | 3 | 3.33 | 25 | 1 | 0 | 0 | 5 | 51.1 | 45 | 23 | 19 | 26 | 42 | 4 | 7 | .239 |
| 2019 | | 5 | 4 | 4.66 | 20 | 11 | 1 | 1 | 0 | 67.2 | 60 | 36 | 35 | 35 | 66 | 10 | 6 | .236 |
| 2020 | | 2 | 2 | 3.00 | 4 | 4 | 0 | 0 | 0 | 18.0 | 13 | 10 | 6 | 13 | 25 | 6 | 3 | .188 |
| 2021 | NE | 6 | 1 | 3.86 | 13 | 12 | 0 | 0 | 0 | 65.1 | 48 | 28 | 28 | 15 | 87 | 5 | 10 | .203 |
Player Wire
Cape Cod Prospect Rundown: Hyannis Harbor Hawks
Our deep dive into each Cape Cod League team continues with David Seifert's dissection of every prospect on the Hyannis Harbor Hawks.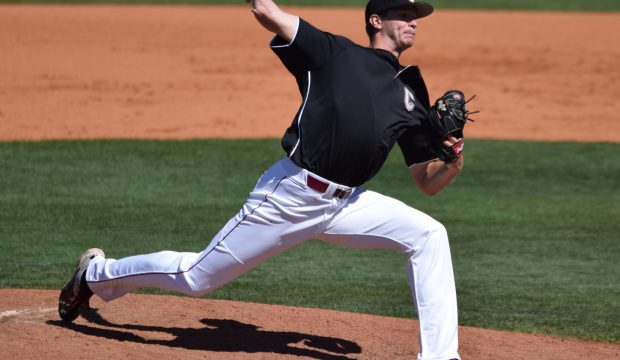 2017 Conference Previews: Colonial
Bailey Ober and College of Charleston lead a group of CAA challengers that also includes William & Mary and Delaware. But UNCW is the team to beat.