| | | | | | | | | | | | | | | | | | | |
| --- | --- | --- | --- | --- | --- | --- | --- | --- | --- | --- | --- | --- | --- | --- | --- | --- | --- | --- |
| Year | Team | W | L | ERA | APP | GS | CG | SHO | SV | IP | H | R | ER | BB | SO | WP | HP | OBA |
| 2017 | | 2 | 1 | 9.00 | 9 | 4 | 0 | 0 | 0 | 18.0 | 16 | 20 | 18 | 27 | 18 | 4 | 3 | .246 |
| 2018 | | 3 | 4 | 6.49 | 13 | 12 | 0 | 0 | 0 | 61.0 | 77 | 51 | 44 | 23 | 52 | 2 | 10 | .314 |
| 2019 | | 4 | 3 | 4.18 | 10 | 10 | 0 | 0 | 0 | 51.2 | 48 | 25 | 24 | 33 | 53 | 6 | 2 | .244 |
| 2021 | RUTG | 6 | 2 | 3.67 | 13 | 13 | 1 | 0 | 0 | 76.0 | 64 | 34 | 31 | 11 | 56 | 3 | 11 | .226 |
Player Wire
Midwest Connection: Rutgers On The Rise
Rutgers is running the gauntlet in the Big Ten and holding its own. Patrick Ebert breaks down the Scarlet Knights and Michigan after a series between the two in Ann Arbor.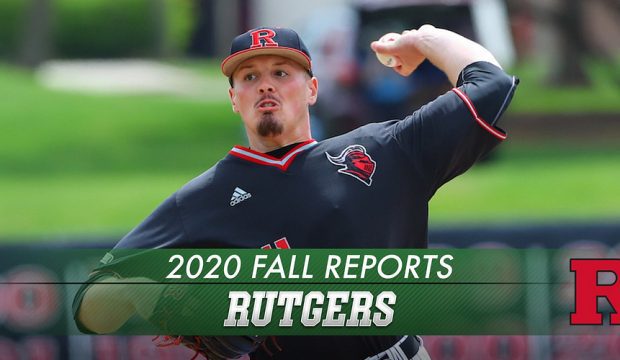 Fall Report: Rutgers
Harry Rutkowski returns for another season, as second-year head coach Steve Owens looks to make a huge splash in 2021.
2017 Conference Previews: Ivy League
Princeton's talent and experience gives it a shot to celebrate a second straight Ivy League title in May, but Dartmouth leads the hungry challengers.