| | | | | | | | | | | | | | | | | | | |
| --- | --- | --- | --- | --- | --- | --- | --- | --- | --- | --- | --- | --- | --- | --- | --- | --- | --- | --- |
| Year | Team | W | L | ERA | APP | GS | CG | SHO | SV | IP | H | R | ER | BB | SO | WP | HP | OBA |
| 2018 | | 2 | 1 | 5.89 | 17 | 0 | 0 | 0 | 0 | 26.0 | 20 | 20 | 17 | 14 | 20 | 4 | 3 | .215 |
| 2019 | | 1 | 2 | 5.40 | 22 | 8 | 0 | 0 | 3 | 55.0 | 52 | 41 | 33 | 35 | 47 | 12 | 11 | .250 |
| 2020 | | 0 | 1 | 0.96 | 9 | 0 | 0 | 0 | 4 | 9.1 | 6 | 2 | 1 | 4 | 11 | 0 | 1 | .188 |
| 2021 | NE | 2 | 4 | 3.71 | 16 | 0 | 0 | 0 | 5 | 17.0 | 19 | 14 | 7 | 10 | 22 | 1 | 3 | .268 |
Player Wire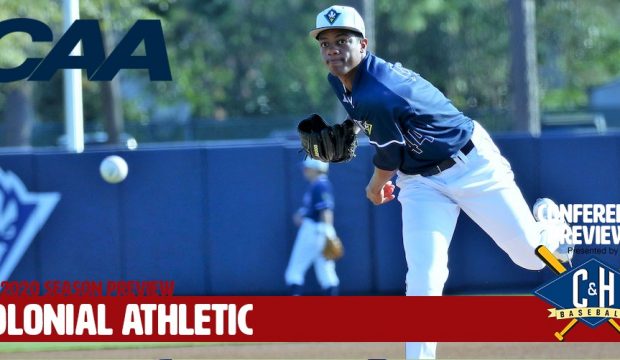 2020 Colonial Preview: UNCW Still The One
Perennial power UNC Wilmington is the clear-cut team to beat in the Colonial Athletic Association, but Northeastern, James Madison and Elon lead a hungry pack of capable challengers.
Cape Cod Prospect Rundown: Y-D Red Sox
South Carolina's Noah Campbell was one of the top standouts for Yarmouth-Dennis this summer. Find out which other Y-D prospects caught the eye of Nick Faleris.
2019 Conference Previews: Colonial
UNC Wilmington is aiming for its sixth regional in the last eight years, but Elon, Northeastern and College of Charleston should be very formidable contenders in the CAA.