| | | | | | | | | | | | | | | | | | | | |
| --- | --- | --- | --- | --- | --- | --- | --- | --- | --- | --- | --- | --- | --- | --- | --- | --- | --- | --- | --- |
| Year | Team | POS | AVG | OBP | SLG | OPS | GP | AB | R | H | 2B | 3b | HR | RBI | HP | BB | SO | SB | CS |
| 2018 | | | .217 | .313 | .301 | .614 | 44 | 166 | 27 | 36 | 6 | 1 | 2 | 18 | 1 | 23 | 50 | 5 | 2 |
| 2019 | | | .269 | .373 | .374 | .747 | 49 | 171 | 25 | 46 | 8 | 2 | 2 | 22 | 1 | 29 | 44 | 12 | 4 |
| 2020 | | | .411 | .515 | .714 | 1.229 | 14 | 56 | 20 | 23 | 6 | 1 | 3 | 11 | 1 | 11 | 17 | 2 | 1 |
| 2021 | HOF | INF | .380 | .557 | .680 | 1.237 | 29 | 100 | 31 | 38 | 10 | 1 | 6 | 20 | 1 | 39 | 22 | 4 | 4 |
Player Wire
2020 Conference Wrap: Colonial Athletic Association
Landen Roupp was a key part of a strong pitching staff that helped UNC Wilmington get off to a strong start in 2020. Find out which other CAA players and teams stood out in the abbreviated season.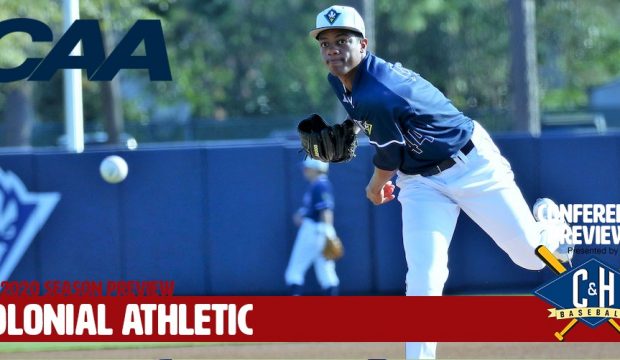 2020 Colonial Preview: UNCW Still The One
Perennial power UNC Wilmington is the clear-cut team to beat in the Colonial Athletic Association, but Northeastern, James Madison and Elon lead a hungry pack of capable challengers.
2019 Conference Previews: Colonial
UNC Wilmington is aiming for its sixth regional in the last eight years, but Elon, Northeastern and College of Charleston should be very formidable contenders in the CAA.