| | | | | | | | | | | | | | | | | | | | |
| --- | --- | --- | --- | --- | --- | --- | --- | --- | --- | --- | --- | --- | --- | --- | --- | --- | --- | --- | --- |
| Year | Team | POS | AVG | OBP | SLG | OPS | GP | AB | R | H | 2B | 3b | HR | RBI | HP | BB | SO | SB | CS |
| 2017 | | | .317 | .456 | .413 | .869 | 39 | 104 | 10 | 33 | 4 | 0 | 2 | 17 | 17 | 12 | 27 | 0 | 3 |
| 2018 | | | .312 | .413 | .566 | .979 | 48 | 173 | 32 | 54 | 19 | 2 | 7 | 46 | 17 | 14 | 30 | 1 | 0 |
| 2019 | | | .280 | .393 | .540 | .933 | 40 | 150 | 27 | 42 | 7 | 1 | 10 | 29 | 15 | 13 | 32 | 2 | 2 |
| 2020 | | | .265 | .368 | .592 | .960 | 14 | 49 | 7 | 13 | 4 | 0 | 4 | 7 | 1 | 7 | 15 | 0 | 0 |
| 2021 | NEV | 1B | .468 | .527 | .968 | 1.495 | 35 | 124 | 35 | 58 | 15 | 1 | 15 | 47 | 10 | 10 | 19 | 1 | 1 |
Player Wire
D1 Analytics: Top 100 Hitters
Our analytics team examines the top statistical performers in college baseball this season, considering plate discipline, hit ability and game power.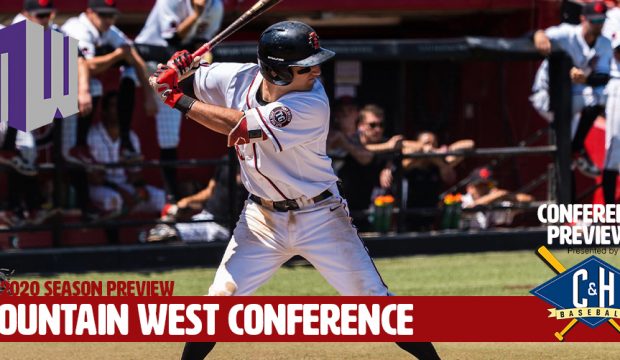 2020 Mountain West Preview: Fear The Aztecs
San Diego State's coaches think they might have their most talented and complete team ever in 2020, making the Aztecs the team to beat in the always-competitive MWC. But Fresno State and Nevada are lying in the weeds.
Preseason Power Rankings: First Base
Cal's Andrew Vaughn headlines our list of the top 30 first basemen in college baseball heading into the 2019 season.