| | | | | | | | | | | | | | | | | | | | |
| --- | --- | --- | --- | --- | --- | --- | --- | --- | --- | --- | --- | --- | --- | --- | --- | --- | --- | --- | --- |
| Year | Team | POS | AVG | OBP | SLG | OPS | GP | AB | R | H | 2B | 3b | HR | RBI | HP | BB | SO | SB | CS |
| 2019 | | | .279 | .372 | .342 | .714 | 39 | 111 | 15 | 31 | 5 | 1 | 0 | 14 | 0 | 17 | 19 | 1 | 1 |
| 2020 | | | .182 | .250 | .182 | .432 | 7 | 11 | 0 | 2 | 0 | 0 | 0 | 0 | 0 | 1 | 3 | 0 | 0 |
| 2021 | TCU | INF | .080 | .207 | .320 | .527 | 12 | 25 | 6 | 2 | 0 | 0 | 2 | 5 | 1 | 3 | 8 | 0 | 0 |
Player Wire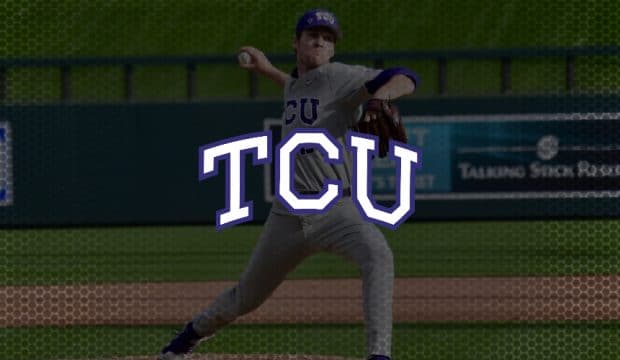 Fall Report: TCU
TCU narrowly reached the NCAA tournament last season, but the Horned Frogs look to return to their place as an Omaha mainstay in 2020. Here's our in-depth look at the Frogs' fall workouts.
Notebook: Dores, Titans Win In Different Ways
Cal State Fullerton rode pitching and defense to a shutout win over TCU, and Vanderbilt flexed its offensive muscle in a slugfest victory over Virginia at the MLB4 tournament.