D1 Digest: Friday, April 7
Roundup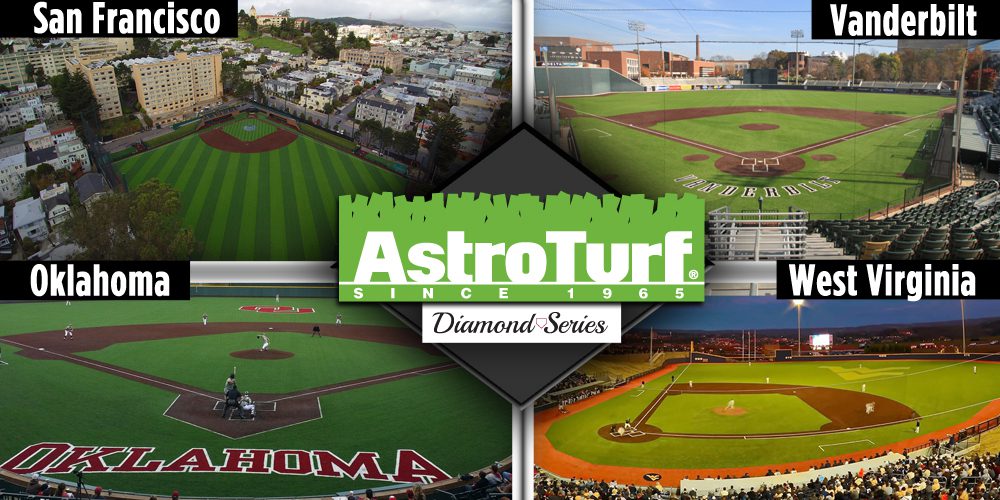 ---
 Team of the day: Wake Forest
Even with the departures of Will Craig and others, the Demon Deacons are putting together a very impressive campaign in 2017. The Deacs logged another big victory on the road Friday night at No. 2 Louisville winning 2-1 to hand the Cards their first home loss of the season. Wake senior righthander Parker Dunshee was terrific in the win, striking out six, walking one and allowing a run on five hits in seven innings, while Griffin Roberts slammed the door on UL with four strikeouts in two shutout innings. Deacs first baseman Gavin Sheets had a night to remember, going 3-for-4 with a double, homer and two RBIs, while Stuart Fairchild put together another multi-hit performance. As for the Cards, lefty Brendan McKay had another quality start, striking out 11, walking one and allowing two runs on five hits in seven innings. Another win this weekend would sure put the Deacs in a good spot moving forward in ACC play.
Gavin Sheets had a successful night against Louisville. (Aaron Fitt)
Upset of the day: Tennessee over No. 7 Florida
The Gators were the heavy favorites coming into the weekend, but the Volunteers spoiled the party Friday night in a 7-6 victory in 10 innings. UF righthander Alex Faedo had a rather bizarre start. He struck out 12 and walked just one, but also allowed six runs on 10 hits in 5.2 innings. Meanwhile, UT first baseman Andre Lipcius had a nice night at the plate with three hits, while three other Vols also had multi-hit games. Perhaps the Vols are showing signs of life at the right time.
Player of the day: J.J. Matijevic, 1b, Arizona
What a powerful night it was for the Wildcats. They hit the road and clobbered Washington State 19-5 to open another important Pac 12 series. Matijevic had a huge night at the plate, going 4-for-4 with a homer, two doubles, three runs scored and a whopping six RBIs. Matijevic continues to have a strong offensive campaign for the Wildcats.
JJ Matijevic had a big night for Arizona. (Shotgun Spratling)
Honorable mention
— Xavier blue-chip lefthander Zac Lowther racked up 16 strikeouts over eight innings of perfect ball — you won't see eight better innings all year. But Lowther was pulled after issuing a leadoff walk in the ninth, and Villanova proceeded to break up the no-hitter and then with 3-2 against reliever Taylor Williams. Tough break, Zac!
— CSU Bakersfield senior righthander Max Carter had a strong performance in a 3-0 win over Chicago State. He struck out six, didn't walk anyone and allowed just six hits in a complete game shutout.
— UT Arlington catcher Will Olson had a night to remember in an 18-1 win over Appalachian State on the road. Olson went 2-for-6 with a three-run homer and five RBIs.
— New Orleans righthander Shawn Semple had a strong start in a 2-0 win over Lamar. Semple struck out nine, walked three and allowed just five hits in eight shutout innings.
— Auburn righthander Casey Mize was filthy in a 2-1 win over Texas A&M. Mize, a sophomore righthander, struck out a career-high 12 batters, walked just one and allowed two hits in seven shutout innings.
— Oregon lefthander David Peterson put together yet another strong performance in a 10-1 win over UC Irvine. He struck out 11, walked no one and allowed just a run on five hits in six innings.
— Central Connecticut State starting pitcher Brendan Smith had a big day, striking out nine, walking just two and allowing seven hits in eight shutout innings in a 5-0 win over LIU Brooklyn.
— Air Force outfielder Adam Groesbeck went bonkers in a dominant 23-9 home win over UNLV. Groesbeck went 6-for-7 with four runs scored and four RBIs. And get this: four of those hits were doubles. Have a day, Adam.
— Missouri State senior lefthander Jordan Knutson put together a dominant start in a 5-1 win over Dallas Baptist. Knutson struck out 13, walked two and allowed a run and one hit in eight innings.
— Long Beach State righthander Darren McCaughan was outstanding in an 8-0 win over UC Riverside. McCaughan struck out 13, didn't walk anyone and allowed just three hits in eight shutout innings.
— Cal State Fullerton righthander Connor Seabold was on his game in a 6-0 win over UC Davis. Seabold struck out 11, walked one and allowed just three hits in a complete game performance.
— Kennesaw State righthander Tony Dibrell was pure filth in a 4-0 win over USC Upstate. He struck out 13, walked three and allowed just three hits in a complete game performance.
— Davidson's Will Robertson went 4-for-6 with a homer, four runs scored and five RBIs to lead the Wildcats to a 24-4 win over LaSalle.
National Takeaways
— Big-time showdown takes center stage in Conway
It's the showdown of the season in the Sun Belt – UL Lafayette and Coastal Carolina. And the Ragin' Cajuns struck the first blow in the series with a narrow 1-0 victory. The lone run of the game was a Kennon Fontenot solo home run to right field in the second inning. Otherwise, it was all about pitching, and rightfully so with the two stalwarts on the mound. Cajuns veteran lefthander Gunner Leger was the President of Precision as usual, only striking out two Coastal hitters, but also only walking two and allowing just two hits in seven shutout innings. Meanwhile, Coastal's Alex Cunningham should be commended for his start, too, striking out 11, walking just one and allowing a run on three hits in eight innings.
— Knight and Arkansas Pound LSU
Earlier this week, Razorbacks righthander Blaine Knight took to the airwaves to voice his opinion that, well, his team wasn't scared of LSU. Well, they showed that Friday night in a dominant 9-3 triumph over the Tigers. And Knight backed up his talk on a personal level, too, striking out six, walking three and allowing just three hits in six shutout innings. Meanwhile, the Arkansas offense had a strong day against LSU righty Alex Lange. The Hogs touched up Lange for three runs – two earned – on six hits in 4.1 innings. Eric Cole, Jared Gates and Chad Spanberger each hit homers for the Hogs, while Carson Shaddy added a pair of hits. With the win, the Hogs have now won 13 of their last 15 games.
— Nebraska might just be figuring it out
The Cornhuskers were expected to be a certain postseason contender coming into the season, but got off to a start worth forgetting. Well, the Huskers have been much better over the past few weeks, extending their winning streak to eight games with a 3-1 win over Maryland. Huskers starting pitcher Jake Hohensee had a solid start against the Terps, striking out eight, walking two and allowing a run on three hits in 8.1 innings.
— Baylor is getting tested like no other
Remember when the Bears were one of the national darlings just a few weeks ago? While Steve Rodriguez and his staff have still done a great job just to get BU to a 19-11 record at this point, the late trend is concerning considering the Bears have lost seven of their last nine after getting blitzed 13-2 on the road by Texas Tech. BU righthander Nick Lewis had a tough night on the bump, allowing seven runs on seven hits in three innings, while the offense was unable to generate much at all on Tech's pitching staff.
— Kentucky takes opener of The Cohen Classic
In one of the more anticipated SEC series this weekend, the Wildcats were in a dog fight with Mississippi State the entire night before busting out with three runs in the ninth inning to take home a 5-2 win in the series opener. Zach Reks had the big hit – a two-RBI triple – to lead the charge in the ninth, while righthander Sean Hjelle got his team off to a nice start by allowing just two runs on three hits in 6.1 innings. Meanwhile, MSU lefty Konnor Pilkington struck out seven but had some control issues with six walks and allowed two runs and just a hit in 6.2 innings. The Wildcats, now 8-2 in the SEC, have moved into the top 10 of the RPI.
Did you miss this?
— Florida Atlantic is having a nice season and had a Friday to remember. The Owls were down 9-0 in the seventh inning to Charlotte on the road. However, they scored three in the seventh, two in the eighth and fourth in the ninth to send the game to extra innings. FAU won the game 13-10 with a three-run 12th inning. David Miranda led FAU's offensive charge, going 5-for-7 with a homer, triple and two RBIs.
— Oregon State is apparently not going to be denied as the No. 1 team in college baseball. The Beavers trailed Utah 4-3 in the bottom of the eighth, but scored a run in the bottom of the eighth to tie the contest before winning it in the ninth, 5-4, on a Steven Kwan walk-off RBI single. OSU lefthander Luke Heimlich put together another solid start, striking out eight, walking two and allowing two runs on six hits in 6.2 innings. Meanwhile, Utah's Jayson Rose had a gutsy start, too, striking out eight, walking one and allowing two earned runs on five hits in seven innings. For those counting, that's now 21-straight wins for the Beavers.
9th-Inning Magic!#GoBeavs
https://t.co/9Rdzd0sqDb

— Oregon St. Baseball (@BeaverBaseball) April 8, 2017
— Vanderbilt clinched a big road series at South Carolina with a come-from-behind 5-3 win in 13 innings Friday. Matt Ruppenthal delivered seven innings of shutout, two-hit relief, retiring the final 14 batters he faced. And Julian Infante delivered a game-winning two run homer in the 13th. Aaron Fitt was on hand in Columbia and wrote about the Commodores' continuing maturation.
— Florida State has rebounded nicely from last week's four-game losing streak. The Seminoles notched two quality midweek wins against Florida Gulf Coast, then hit the road for an important ACC series at desperate NC State. The Seminoles blitzed the Wolfpack 16-7 in Friday's series opener, as Taylor Walls and Drew Mendoza combined for six hits and seven RBIs. Mendoza is obviously a big key for FSU heading into the second half, and he made his presence felt in a big way Friday.
— After losing the first two games of a road series at Tulane last weekend, South Florida salvaged Sunday's finale in New Orleans, then started this weekend off on the right foot with a 5-4 win in 11 innings against UCF. Luke Borders had three hits including the game-winner in the 11th, after the Bulls overcame a two-run deficit with a pair of runs in the ninth.
— Daniel Frederickson went 4-for-4 to lead a balanced 13-hit attack for Gonzaga, which won the opener of a big West Coast Conference showdown series against No. 19 San Diego, 9-2. Calvin Lebrun turned in four innings of one-run ball in relief of ace Eli Morgan (5 IP, 1 ER).
— No. 21 Stanford evened its series at Southern California with an 8-3 win Friday. Matt Winaker and Mikey Diekroeger had three hits apiece to lead the Stanford offense, and Colton Hock earned the win with five innings of shutout relief, striking out five.
— Houston has suspended junior lefthander Seth Romero indefinitely for a violation of team rules and athletic department policy. This is the second time in the last year Romero has been suspended, and this decision comes after the Cougars originally just moved him from the starting rotation to the bullpen because of travel curfew violations. You'd like to think that Romero will figure things out at some point, but who knows at this point? … While Romero's news was a negative on Friday, it was the only one, as the Cougars pounded East Carolina 17-3.
Houston coach Todd Whitting on indefinite suspension of lefthander Seth Romero pic.twitter.com/NdYduFwXHT

— Joseph Duarte (@Joseph_Duarte) April 8, 2017
Join the Discussion