The Ouch List: Season Debut
Analysis
Want to get in-depth coverage? Subscribe to D1Baseball
---
Pain. Heartache. Disappointment. Despair.
As you StitchHeads out there know, these things do not take a day off. They don't have a season. They don't care what the calendar says. They can't be reasoned with.
That's why there is an Ouch List on the third day of the college baseball season. Pain doesn't rest. It will find you. Sure, these nominations for the downtrodden of the week here in February may be moot by the time April and May comes around and these teams finally start to heat up and play to their potential. But for now, we're firing up the Pain Train and letting it run down those rickety, unsafe tracks at a very high speed.
Here we are with the first Ouch List of the 2018 season. And I'll start it with a team that I saw on Sunday on a sun-splashed afternoon at historic Blair Field.
– Long Beach State
What Happened: Lost two of three at home to St. Mary's
Why It Hurts: Doubled with the off-field news, it was a painful week at The Beach.
Losing two of three to the Gaels wasn't catastrophic or anything, they are REALLY good team (just ask Aaron Fitt). But it was what happened in the week leading up to the opening game that hurt the Dirtbags even more. Coach Troy Buckley and his staff found out earlier in the week that their opening day starting battery of RHP John Sheaks and catcher Cole Joy were both found to have injuries that will force them to miss significant amounts of time. Sheaks has the dreaded Tommy John surgery coming up in March and Joy will miss 8-to-10 weeks with a broken thumb.
I talked with head coach Troy Buckley about his unfortunate luck. "We'll be thin on the mound, for sure. We only have nine healthy arms right now. It's frustrating. Sheaks is a senior and who knows how long this knocks him out for. Tommy John surgery usually requires a 12-to-16 month rehab, so we'll have to see if he can come back next year or not."
"Joy actually won the catcher's job in January and February," Buckley said. "Having him would've helped us move Chris Jimenez to third base and he's a good hitter for sure. As bummed as I am for Sheaks, losing Cole really hurts the offense. He's very versatile too. He could've been first base or right field. We're hoping it doesn't require surgery. Right now it's in a cast and they're saying it's going to be eight-to-ten weeks, so we'll see if we can get him back for the last five. But Jimenez is a freshman and he's going to have to play a lot."
Now on to the rest of the Ouch List…
– LSU
What Happened: Went 1-2 vs. Notre Dame
Why It Hurts: The talent differential
Don't worry, the Tigers'll figure it out soon enough. Ease back in your chairs Tiger fans, no need to jump off the Huey P. Long Bridge just yet. With that as a softener… this was pretty awful. Sure the Tigers lost a lot from a year ago, but man, they still have a sizable talent edge on the Irish. Yet there was Notre Dame, a team who had three days of outdoor practice before leaving for Baton Rouge, outscoring LSU 27-15 and nearly taking all three games on the weekend (they blew a 6-0 lead on Friday). The biggest pain for the Tigers may have been College World Series star reliever Zack Hess making his debut as a starting pitcher, which ended with him going just 2.1 innings and giving up eight runs on five hits and six walks.
– Mississippi State
What Happened: Swept in three games at Southern Miss
Why It Hurts: You never wanna lose to your "little brother"
If there is one rule about our childhood we never want to break, it's that you NEVER lose to your little brother, especially not in front of a crowd of people. Folks, the Eagles sweeping the Bulldogs was the biggest tremor in college baseball this weekend, starting with that 11-0 skunking on Friday night. This series wasn't even close either. USM outscored MSU 23-6 in the three games and never trailed along the way. Oh and the crowds at Pete Taylor Field were pretty impressive too, totaling almost 15,000 fans for the three games. (Though I'm sure the actual attendance was more… don't tell the fire marshall).
– Oklahoma
What Happened: Went 1-3 at the Coastal Carolina Tournament
Why It Hurts: The back-to-back walk offs.
A dubious start to the Skip Johnson era in Norman. On Saturday, the Sooners lost a pair of nip-and-tuck matches with South Alabama and homestanding Chanticleers. Both games ended with the opposing offense getting the game-winning hit with the final swing of the bat. So yes, the Sooners had to withstand two on-field celebrations in one Saturday of play. Ugh. On a positive note, they competed hard and could've won both games. And you know how the baseball gods tend to even things out right? Well, to make matters a little worse, OU lost its Sunday getaway game to Virginia Tech by a white flag-like 14-6.
– Eastern Michigan
What Happened: Lost all four games at Florida Gulf Coast
Why It Hurts: Three of the four losses came by a single run.
These dudes from Ypsilanti look at Oklahoma's walk-off victim status and say, "Pffft! You guys are amateurs." EMU lost all three of those one-run games at FGCU via the walk-off. And the most painful part is that the Eagles had a lead in each of those games, including a 12-6 lead and a 6-4 lead as late as the eighth inning in two of them. These guys bring pain to a whole new level. Get well soon Hurons.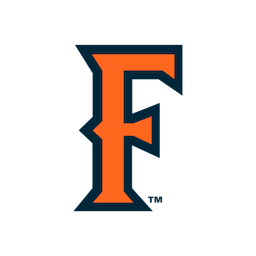 – Cal State Fullerton
What Happened: Lost all three games at Stanford.
Why It Hurts: The questionable pitching
This was a tough start for the Titans. This rivalry is usually very tight, but the Titans seemed to be pushed around a little this weekend. Granted, there were no 15-1 scores or anything like that, but the offense hit just .202 vs. the Cardinal. Even more troubling? The starting pitching, which is usually a strength for the Titans. But Colton Eastman, Andrew Quezada and Tanner Bibbee combined for just 10 innings of work, giving up 14 runs on 17 hits. Stanford is not a bad hitting team, but they aren't going to light the college baseball world on fire with their offense.
Despite a dubious start on Saturday, Andrew Quezada will get better as the season goes on.
– Utah
What Happened: Lost all three games at Oral Roberts
Why It Hurts: Wasted career-best pitching efforts.
There is not a lot of shame in losing a series to ORU, the Eagles are going to be one of the best mid-majors in the country, hands down. But the Utes got career efforts from game two starter Tanner Thomas, who notched a career-high 10 strikeouts, and game three starter Brett Brocoff, who tied the program record with 12 strikeouts. Yet the offense couldn't get the hits it needed as UU managed just 17 hits on the weekend in losing 4-3, 6-4 and 3-0. On top of all that, before the first pitch was even thrown, head coach Bill Kinneberg was suspended by the NCAA for the first 14 games of the season because of a series of infractions.
– Campbell
What Happened: Lost three straight to St. John's.
Why It Hurts: They forgot their bats… or St. John's took them away.
It's not Campbell's fault. I'm sure the Camels scheduled St. John's thinking they'd have a Northern team come down and play their first games outside of their snowbank… easy Ws. Well we knew they weren't going to be world beaters this year, but man did they ever get a boa constrictor wrapped around their collective necks. In 28 innings of play this weekend the #RollHumps were held to just just two runs and 14 hits while striking out 36 times vs. the Red Storm, losing 3-1, 1-0 and 7-1.
Okay, I admit, the real story here is to keep an eye on the Johnnies. They're going to be formidable this season.
– Georgia Southern 
What Happened: Lost two of three to Georgia
Why It Hurts: Close but no cigar
Like Southern Miss above, the Eagles would've loved to have beaten their "big brother" from up North but came up just an inch short of doing so. The biggest pain is knowing that they had a 3-2 lead going into the ninth inning of the deciding game three and were three outs away from nailing down the series win. But the Bulldogs pushed across a pair of runs, the game-winner coming on a deep RBI fly ball to left field. Pulling out this Sunday W would've made the weekend all that much sweeter considering GSU lost the Friday opener 22-9.
– Bucknell
What Happened: Lost all three games at Arkansas
Why It Hurts: Was outscored 49-7.
Sometimes I don't know why these Northern teams with very little practice time outside agree to play the christians vs. the lions here. There should be some kind of moratorium against these mismatches.
Join the Discussion