D1Baseball's Weekly Chat: March 9
Chats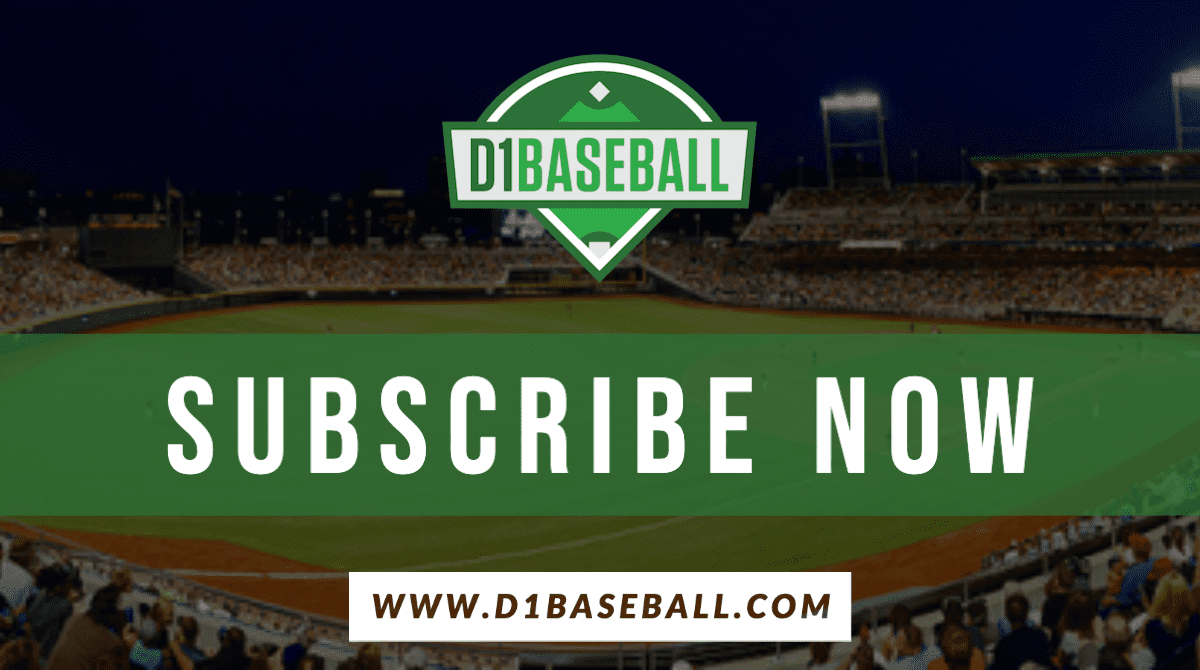 ---
---
Another huge week of college baseball is in the books and our Kendall Rogers and Aaron Fitt answer your burning questions about the rankings and much more.
Greg K: What do you make of the Rice-Tx Tech weekend where Rice easily could have taken 2 of 3 on the weekend chasing the Tech starters in the 1st and 2nd inning on Saturday and Sunday?
Kendall Rogers: Greg — I give Texas Tech a lot of credit for battling back in the final two games of the series. Fortunately for Tech, the game is nine innings and not two or three. I think it also shows just how little quality pitching depth the Owls have this season. That rebuild is going to take longer than I think everyone previously expected. Texas Tech's weekend rotation arms are still trying to become "pitchers" instead of throwers. That's a process, but they'll get there, IMO.
---
Adrian: Are the Tulane Green Wave for real this season or have they benefitted from a soft schedule to this point?
Aaron Fitt: I think Tulane is a legitimate contender — one of the top two or three teams in the American, and a bona fide regional-caliber club. We knew this team could really hit, but I've been impressed with what they've done on the mound so far this year. The competition will get tougher, but it's obvious that Tulane is much better on the mound than it was a year ago, and I think they've got staying power.
---
Jeff Davis: Chris Lanzilli has shown this year to be the best bat in this stacked Wake lineup once again and is now playing a stellar third base and right and left field. What am I missing why this kid is not a first rounder? 5-tool guy with no holes in his game in this years looks.
Aaron Fitt: I think you're overselling his defense, Jeff. Scouts still view him as a liability on defense wherever he plays — whether you think that's fair or not. But he'll have plenty of chances to prove to them that he's a capable defender as the season goes along, because he'll get a whole lot of looks from scouts. His bat is certainly formidable, and his power is undeniable.
---
Mike: Who's your favorite to win the SEC West? Do you think Ole Miss' good fortunes will continue through conference play?
Kendall Rogers: Mike — I think the SEC West is absolutely wide open right now. The Rebels haven't displayed any noticeable holes so far, but with so many young players in a league like that — you know some ups and downs are coming. With that said, I am very very encouraged by what the Ole Miss pitching staff has done so far this season. If Arkansas can get its starting rotation ironed out, it would be my next team on the board with LSU/MSU/A&M/Auburn all in a group. I would say it would be smart to keep an eye on Alabama, too. It has some nice pieces with Connor Prielipp leading the way on the mound.
---
Jay: Tcu loses by 1 run to a top 5 team beats another top 5 team and drop out of the top 25? How does that make any sense?
Kendall Rogers: JAY — We actually discussed keeping TCU in the Top 25, but at the end of the day, the Frogs did have a losing week, and also lost their midweek game. "Almost" winning only counts on hand grenades and horseshoes, as my mother used to say.
---
MobleyNole: the Noles have lost 4 games by 1 run, and mostly holding opponents under 5 runs. How close are they to really being an elite team? Seems like an error or 2 have cost them several games this year against some of the best in the country
Aaron Fitt: I think they're still not close to being an elite team — the defense is really bad, and the offense has way too much swing-and-miss. Yesterday's offensive performance was encouraging, but they need to continue to have more competitive at-bats, and they really need to clean up the defense, especially on the infield. I do think the pitching gives them a chance to be elite if they can improve in those other two areas, because the pitching is outstanding. And I do believe Mike Martin Jr. will make that offense better as the year goes on. Top 15 kind of club for me, a long way to go before they're a top five kind of club.
---
Charles: How do y'all feel about Oklahoma after this weekends intense series against SDSU? Also, do y'all think Peyton Graham is going to keep up his hot streak? He looks like one of the best freshmen in the country right now. Thank y'all!
Kendall Rogers: I think Oklahoma is going to have a really, really nice season. I love the weekend rotation with Cavalli, Prater and now Dane Acker stepping up. And the bullpen is certainly loaded. And about Graham, yeah, I noticed the weekend he had. Skip Johnson was sky high on him after fall workouts, so it's nice to see him meeting expectations. OU doesn't have an overly explosive offense, so anything it can get out of guys like Graham, etc, is a bonus.
---
Tim: What is the panic meter for Arkansas at right now? This pitching staff looks awful and to me not even a regional team. What are your thoughts?
Aaron Fitt: Oh I think that's an overreaction. I think the pitching is average, and the offense is still going to be elite. And that can still be a winning combination. When the dust settles, I expect Arkansas to wind up in that 9-16 group of hosts; whether they host or not, they'll definitely be in a regional, you can take that to the bank.
---
Kyle: Is it time to consider Ole Miss a legitimate Omaha threat?
Kendall Rogers: Kyle — Absolutely. Ole Miss had a very very good non-conference slate, the starting rotation looks rock solid and you know the Rebels will hit enough as they do almost every year. No reason to think, at this point, they can't be an Omaha contender.
---
Rob: Saw a post about how ULM is one of the top 10 teams in Run Differential per Plate Appearance. Do you see them as a strong candidate to make a postseason run as a mid-major?
Aaron Fitt: The WarHawks qualify as one of those big surprises of the first month — I don't think anybody expected a 12-3 start against a pretty decent nonconference schedule. I like the veteran core of position guys led by Ryan Humeniuk and Andrew Beesly, both of whom have gotten off to fantastic starts. There are a lot of upperclassmen in that lineup, which leads me to believe this team could be a legitimate factor in the Sun Belt all year. I need to see how the pitching holds up before I really buy in, but Ty Barnes is a nice senior ace who has had a great first month.
---
Adam F.: As a Miami fan, what should be my biggest concern, that Miami is hitting 263? That there average with RISP is abysmal or that Raymond Gil is hitting below the Mendoza Line? Also do you see Miami turning the hitting around and living up to their top 10 pre – season billing?
Aaron Fitt: I'm really not concerned about the offense. Gil is too talented not to get hot, I really think he'll figure it out soon. I thought Miami would be one of the best offensive teams in the country, and I think it's fair to downgrade that expectation a little bit (especially with Zamora out), but I still think they'll be one of the better offenses in the ACC, and obviously their starting pitching is truly elite. Still an easy top-10 team for me, still an Omaha club.
---
BaseballFan8: Any thoughts on DBU's season so far, and what it will take improvement wise to maybe make a deeper tourney run come June?
Aaron Fitt: I like DBU's club — good, balanced roster there. You'd probably like to see a little more consistency out of the starting pitching, but the pieces are there — all three of those weekend guys have real ability, and I love the Kechely-Carraway duo in the bullpen, obviously. It's not going to be one of those big scary offenses that we've seen from DBU before, but I think it will remain competent enough to win a lot of games.
---
Nick: What is holding back Oklahoma State from being in the Top 25? I get five Ls this early is a concern but looking at NC State, , FSU and Long Beach it's hard to imagine why they aren't breaking the Top 25.
Kendall Rogers: Nick — Oklahoma State has a solid club and no doubt Josh Holliday will have those guys playing at a high level at some point in Big 12 play, but OSU's marquee weekend right now is a series win over BYU, which has a losing record. NC State has taken care of business against everyone it has played until that Virginia series, and I'm not entirely sure your argument against Long Beach State. LBSU has played one of the nation's toughest schedules and has series wins against Wake Forest and Mississippi State. FSU is the one team with just an OK resume to me, but the Noles did beat FAU (who almost always is in the postseason) twice a couple of weekends ago.
---
Joey F: what are your thoughts on Northwestern and their standing in the big10. Was following their appearances in South Carolina for two series and have shown promise as a strong ball club. Would love to hear your thoughts?
Aaron Fitt: I think Northwestern's pitching depth has definitely improved, which has made a big difference. Even with Quinn LaVelle struggling, Northwestern has pitched pretty well, and I think Mike Doherty is a nice emerging sophomore with a putaway curveball. The bullpen, led by low-slot lefty Sam Lawrence, has mostly been lights-out — I think that's Northwestern's biggest strength. I think this team can be competitive in the Big Ten, but I'm not ready to pronounce them a regional-caliber club.
---
Connor: Chances of Iowa getting an at large this year with a weak big ten?
Kendall Rogers: Connor — a little too early to project how someone's RPI will look in two months, but they are sitting at 40 with a road series looming against CS Northridge, which is at 15. Iowa at least has some meat on its non-conference resume right now, but the fact the Big Ten as a whole has struggled in non-conference play is going to be a factor for those RPIs come May. Iowa needs to do what it can out of conference to make up for that.
---
Guest: What are your thoughts on the CAA? Northeastern had an impressive journey in Florida after getting swept in Alabama to start the season.
Aaron Fitt: I like that Northeastern team — I regarded them as a potential at-large team heading into the season, the No. 2 team in the CAA behind UNCW, and I still feel that way. Winning a series at FAU is big, and sweeping a road set at USF is a nice weekend too, even though USF hasn't been great (having to play Florida for three games won't help your winning percentage). Charleston is off to a great start with a talented young club, we'll see if they've got staying power, but I do like their talent. And JMU was kind of my sleeper team heading into the year, really like their lineup. I think the CAA has a chance to be a two-bid league this year, and I see those four teams as the contenders.
---
Jim: How do you feel about Arizona's chances this year? And what do you make of there start, although they have struggled at times, with a series win vs Houston and a midweek win at Texas?
Kendall Rogers: Jim – Arizona was my Omaha Sleeper, and I'm still with that, though I wish the Wildcats would defend a little better. I said before the season this could easily be a 40-45 win team IF the pitching staff had an ERA around 4.50. Right now, Nate Yeskie's staff has an ERA under four. I'm really intrigued to see how U of A does in Pac 12 play.
---
Guest: How legit are Nick Gonzales's numbers at NMSU? Is he a legit pro prospect or just another high altitude prospect of Las Cruces (see Billy Becher)?
Kendall Rogers: Guest — Nick is definitely a VERY legit player and prospect. He had a strong showing at the Cape Cod League and has been extremely consistent throughout his career. Gonzales was just OK against A&M, though. Showed pretty good defensive instincts for the most part outside of one error, and the offensive approach wasn't bad, he just didn't have much success until he faces the Aggies' weakest arms. To be fair, Asa Lacy and Christian Roa is going to make a lot of guys look silly this spring.
---
Darrell: What are yalls thoughts on Will Bednar's entrance into Miss State's weekend staff? And out of MacLeod, Bednar, Koestler, and Cerantola, what do y'all see emerging as the weekend rotation in the middle of SEC play? Thank y'all!
Aaron Fitt: Love the move to start Bednar — he's a real high-end talent, and judging by his strong start this weekend it looks like he's capable of maintaining his stuff pretty well in a starting role. I saw him up to 94 mph with riding life up in the zone and a decent curveball in Week Two against Oregon State, and I like the loose arm action, which he repeats well. I suspect he'll stick in that rotation all year behind MacLeod (who looks capable of being a true Friday ace now — great start from him Friday). As for Sunday, I could see rolling with Cerrantola a little longer to try to get him to find more consistent command — I just think you need reps to get there. But ultimately, it's a nice security blanket to know you can always stick the wily, super-competitive Koestler in that role and just let Cerrantola air it out in the bullpen.
---
B Easy: ECU had a lackluster performance at the Keith LeClair Classic weekend before last and accordingly it seems like people are writing them off. The AAC looks tough but given ECU's track record of consistency and quality pitching should the Pirates still be the favorites in the league? Granted it's been against lesser competition, but the bats have also come alive during the current 5-game winning streak and eben though it's early the team has a top 5 RPI. What do you think ECU's ceiling is after a month of OOC play?
Aaron Fitt: We are certainly not writing off ECU, and talked about bringing them back into the Top 25 this week — their best weekend was a sweep of Georgia Southern, which probably isn't a regional team even though it's off to a pretty good start. Other teams had louder wins against better competition, so ECU got left out. In any event — I remain high on ECU's pitching, and it is good to see the offense heat up — that was my main reservation about the Pirates this year, because they just lost so much. At the end of the day, I think ECU will wind up as a back-end Top 25 team, I don't expect them to be a regional host, but could be a dangerous 2-seed type (though I reserve the right to adjust that expectation as the season progresses!). And yes, I still see ECU as the favorite in the American.
---
Tom: How do USC's chances of making it to the NCAA tournament after a strong showing at the Dodgertown Classic?
Kendall Rogers: Tom — TBD at this point, but I'll say this, I was very encouraged by John Beller's start, and we all know the Trojans have the position players to make the postseason. With Cal, Oregon State, Oregon all down right now, USC does have an opportunity to rise up and take one of those potential postseason spots. So far, I'm encouraged by what Jason Gill and his coaching staff are doing.
---
CD: What impact, if any, do you anticipate Covid-19 to have on the NCAA baseball season or upcoming June MLB draft?
Aaron Fitt: Boy, it's a great question, and something I've been thinking about lately. I don't have the answer — nobody knows just how sweeping this thing is going to get. But obviously if public gatherings wind up getting cancelled across the country, college baseball won't be exempt from that. I believe they're playing soccer games in front of empty stadiums now in Italy… let's hope it doesn't come to that.
---
CE: Time to worry about TTU starting pitching? I know they could always move Micah Dallas back from the bullpen.
Kendall Rogers: CE — I'm not that concerned, but the fact remains Tech has a bunch of throwers and not necessarily great "pitchers". I always thought Micah Dallas was one of those guys who might not have thrown 96, but he was a very solid pitcher with a hard-nosed approach. I think as his pitch count ramps back up, he'll be back in the rotation.
---
seeingidawg: What do you think about the Georgia Bulldawgs ?   Florida this week?   Thanks and Go Dawgs
Aaron Fitt: I just cannot wait for that series in Gainesville — I'll be on hand all weekend. What a matchup. I think Georgia's pitching and defense stacks up against any team in the country, and I'll be interested to see how the UGa bats fare against high-end Florida pitching. We've already seen Georgia can shut down a good offense, which it did against Georgia Tech — but Florida's offense is another step up, so that'll be a nice challenge. I think that series could go either way.
---
Brooks: As a Pepperdine fan, I couldn't have imagined a better start. After another impressive weekend winning 2 out of 3 against Michigan without their best pitcher statistically in Cooper Chandler. Is this team a legit contender? And do you have any information on the severity of Chandlers injury?
Kendall Rogers: Brooks — I'll check on Chandler's injury, but I do like the makeup of this team a lot. When I saw the Waves out in Arizona, they played with a ton of passion, typically led by Justin Lutes. Wyatt Young and Aharon Modlin are all really nice players, and the pitching staff is getting it done in big situations, too. The WCC as a whole looks very solid at the top. USD also got a nice non-conference series win over the Big Ten this past weekend.
---
Jordan C: Trying not to get to hyped up for UCF's start but dang. Are the Knights facilities in a good place to host a regional? I know improvements have been made but not sure how the Berg stacks up nationally. Thanks!
Aaron Fitt: Oh yeah, they can definitely host now after the recent upgrades. And the way it's going so far, it looks like they could wind up contending for that. The pitching has been so good so far; that series coming up against ECU is going to be very telling about who is the team to beat in the American. Of course, the team to beat might also wind up being Tulane. All three teams appear to be clear-cut regional-caliber clubs at this stage.
---
NOLA Joe: Let's stir the pot…you have rivals LSU & Tulane back-to-back in the rankings. Which team 1) would win right now in a three-game series, and 2) will finish the season ranked higher?
Aaron Fitt: Yeah, stir that gumbo, Joe! This is a fun question. Tulane is clearly the better offensive team, and I think Braden Olthoff can stand toe-to-toe with anybody on Friday nights, but LSU would have an obvious pitching advantage the next two days. I do think LSU has the arms to shut down any offense in the country, including Tulane's. So while I am high on Tulane, I would probably still lean LSU to both of your questions… but it's close!
---
Elliott: Obviously early, but is the AAC looking to be a 4 bid team with at least one hosting at this point?
Kendall Rogers: AAC is looking like a four-bid league at the moment, but we've got a long way to go. Wichita State is off to a great start, but the Shockers haven't gotten close to playing the meat of its schedule, so let's wait and see if that RPI still stays in good range. I feel pretty confident about UCF, ECU and Tulane as postseason teams at this point, though.
---
Stephen: Texas A&M at Auburn this weekend. Who you got?
Aaron Fitt: Great series. I need more time to think about it before submitting my official pick later this week… I love both teams' pitching, and I think I'm inclined to default to the home team — Auburn.
---
Kevin: While Florida is 16-0 and ranked #1, who do you think has the best resume 16 games in? While I respect the fact they swept Miami, I feel like other schools have challenged themselves more through the first third of the season outside of one 3-gm series (i.e., UCLA, TX Tech with RR classic and midweek sweep of FSU).
Aaron Fitt: At the high end of the resumé, I still say Florida's road sweep of Miami is the best single weekend any team in college baseball has had this year. You're right that the other three weeks aren't as impressive, but Troy is a solid club, so that's a decent series win, and USF is actually better than its record. Texas Tech's Round Rock weekend doesn't look so impressive now that we know Stanford and Houston are both bad, and they lost to Tennessee. UCLA has had two good weekends against strong competition, and I think you can make an argument for their resumé over Florida's, but it doesn't quite get there for me. Regardless, we're never going to drop the No. 1 team when it has a 5-0 week, no matter what anybody behind them does.
---
Jeramey: Hey guys love the coverage. With the SEC season starting this weekend, thier are alot of very interesting matchups. I am in the Atlanta area and have a free weekend, where should I go? I am thinking Arkansas at Miss St, what are your thoughts, thanks!
Kendall Rogers: Jeramey — The two best teams will be Georgia at Florida in Gainesville, but in terms of overall experience, you gotta go with The Dude for Arkansas-MSU or Swayze for LSU-OleMiss over McKethan Stadium. I'll be in Starkville and Oxford this weekend. Maybe I'll see you there!
---
Jeff Davis: Is Jared Shuster a potential back end of the first round guy after how improved his stuff looks? Big velo jump, improved breaking ball, and same old nasty changeup that's he's always possessed!
Aaron Fitt: Our David Seifert saw him this weekend, and he was very good, but Seif doesn't think he's a first-rounder. He was 91-94 with an MLB average curveball and an above-average to plus changeup, but it's control over command right now. That's a pretty nice package from the left side. I think he's probably a second or third-rounder.
---
Jeramey: If thier is a lock for a super regional, who is it? Texas Tech and Florida look pretty good for locks, thoughts?
Kendall Rogers: I would put those teams as locks. Yes.
---
Mike: My school needs a new coach. Who's the first assistant coach if your the AD that you are calling that you think would make a good head coach?
Kendall Rogers: Mike — Out West, give me Arizona's Nate Yeskie. Out East, give me Mississippi State's Jake Gautreau. I look at both of those guy's past coaching experiences and really like what they bring to the table. Jake in particular will be a head coach sooner rather than later, IMO.
---
Harry: If you had to pick a team in the Big 12 right now to challenge Texas Tech for the regular season conference crown, who would be your favorite right now?  Looks like another deep league this year, especially given Baylor's resurgence, West Virginia coming into their own, and even Texas finding a way to sweep multiple weekend series thus far.  With the anticipated parity in the league, could you see three Big 12 teams hosting come season's end?
Aaron Fitt: Yeah, good depth, you are correct. I might lean toward Oklahoma as the strongest challenger, based on its outstanding front-line arms. I'm eying that OU at Texas Tech series in April for a potential trip to Lubbock…
---
Montana Diggs: Talk to me about the Mighty Mavs of UTA. The weekend series wins haven't been overly impressive, true, but the mid-week wins stand out and they're off to their best start since that magical '01 season. This former Mav is proud of Coach Thomas's crew.
Aaron Fitt: Yep, great start for the Mavs, highlighted by the midweek win over TCU and the 1-1 midweek showing against DBU. Connor Aube is a great player out in center field, a senior who also performed well last season. Andrew Miller, Zac Cook and Josh Minjarez are providing some pop, and I think Minjarez will also boost that batting average as the year progresses, he's an accomplished veteran guy, another really nice cornerstone piece. What's really caught my eye is the starting pitching — David Moffat, Carlos Tavera and Kody Bullard have been nails so far. This is a team that is very much on our radar, and if they keep winning, expect a UTA spotlight on our site pretty soon.
---
Mike: Can Florida win big in the postseason without studs on the mound? Seems like this is a depth over elite talent staff, which is obviously fine so far, but Mace/Leftwich aren't exactly Faedo/Singer or Shore/Puk.
Aaron Fitt: OK, it's not Faedo/Singer, but that's a really high bar. Mace and Leftwich still have electric stuff, and I've been encouraged by the way both of them have pitched so far. I also love Hunter Barco in the Sunday spot — that's a big-time talent, the No. 1 ranked freshman in the country. So you're right about the depth — the depth is just silly. But I think you're selling the frontline pitching short.
---
Chris: Any thoughts on Texas A&M entering conference play?  Will they be able to hit enough?
Kendall Rogers: Chris — I feel pretty good about A&M's pitching staff with Asa Lacy and Christian Roa leading the way. And I think Jonathan Childress will be pretty good in the rotation, too, as he continues to gain experience, though Chris Weber threw fine against NMSU yesterday. The offense is the question mark. I do think this unit is better than last year's by a decent clip. But how much better? We'll find out. Zach DeLoach still being red-hot at the plate is a continued, big development for the Aggies.
---
PackFan: Am I overreacting to start getting concerned about NC State's pitching beyond Nick Swiney?  30 runs allowed in 4 non Swiney starts the last 2 weeks.  Mid relief has been shaky.
Aaron Fitt: Hmm. I'm not worried about Reid Johnston, he's a proven workhorse bulldog, and he'll be just fine; not dominant, but solid. They do need to figure out that Sunday spot — I expected Chris Villaman to seize that job, but he scuffled, and then David Harrison struggled this weekend. I'd feel better about the state of that staff if Villaman could figure it out and become a reliable Sunday guy. As for the bullpen, I still like the depth and variety, but it's not like they're running a bunch of mid-90s guys at you like Florida is. The NC State guys just have to be sharp with their command to succeed. Ultimately, I think it is still a quality bullpen, but not an elite bullpen. Good enough to win a lot of games. Still feel good about the Wolfpack as a regional host-caliber club.
---
BMP: Handicap the postseason race in the Pac-12 right now. Clearly UCLA and ASU are the class. Those 2 teams seem like locks. After that, I would say USC and Arizona have positioned themselves to make a run at a tourney bid if they perform adequately in conference play. But how many bids does this conference feel like it can get with such a lackluster out of conference performance – specifically by Stanford and Oregon State who are two perennial tourney teams.
Kendall Rogers: I mean, the Pac 12 looks like a pretty crystal clear four-bid league at the moment with UCLA and ASU the obvious ones, and Arizona highly likely to be a postseason team. I do think USC squeezes in there at this point, too, while I'd keep an eye on Washington. The Huskies have the arms to win a lot of games in that league, and I do love me some Braiden Ward offensively.
---
Brandon: Tulane or LBSU this weekend? Thoughts?
Aaron Fitt: I've been burned every time I've picked against Long Beach this year, but this will be its first weekend outside Blair Field… and I like Tulane at home. Fool me four times, shame on me!
---
Will: If Texas goes 3-1 or 4-0 this week, will the Horns make their debut in the Top 25 next Monday?
Kendall Rogers: Will — Texas was probably our next team in line. UT has just had some really bad luck so far this season in terms of scheduling. Typically, a series win over (or sweep) over Rice and Cal State Fullerton would seem impressive, but not so much this season. With that said, I do like what Texas is doing. I like the front-end of the rotation and I'm hoping to see Pete Hansen in the rotation sooner rather than later. He's been terrific. And offensively, my guy Austin Todd just continues to hit for the 'Horns. UT is most certainly heavily on our radar.
---
Jake: What do you make of Auburn? Other than the UCF series they've looked pretty dominant. Was it a fluke weekend or do you think AU has inherent issues?
Aaron Fitt: The rest of the competition hasn't been great… but at least Auburn has dominated it. Look, we ranked the Tigers No. 8 in the preseason for a reason, and I really don't see any red flags with that team. I do think you can chalk up the UCF series to a bad weekend, and I expect Auburn to establish itself as one of the top contenders in the SEC pretty quickly in conference play.
---
Jay: Thoughts on Notre Dame's hot start?  It is obvious that Link Jarrett is instilling a strong culture in South Bend.  Do you believe that ND has the talent to compete in the ACC and for an at-large bid in '20?  Also, what is the viability of Notre Dame as a contender in the ACC year-in and year-out?  Can the strong brand offset the harsh climate and high academic standards?
Aaron Fitt: I saw Notre Dame yesterday and will have a big piece on the Irish on our site tomorrow morning. But the short answer to your question is that I think this team is dramatically improved on offense, and competes very hard. Jarrett has worked a remarkable turnaround with the overall offensive approach and the culture. I'm still not sold that Notre Dame's pitching will hold up and get this team to a regional — but I'm far more open to that possibility now than I was heading into the season. Especially if those talented freshmen Jack Brannigan and Liam Simon continue to progress to bolster that bullpen, because those guys have big-time arm strength.
---
Brandon: Is Arkansas v MSU still a marquee matchup this weekend given both teams' early season struggles?
Kendall Rogers: Brandon. Yes, that's still a marquee series, and it's a fascinating one, too. Arkansas needs Patrick Wicklander to get back on track (Caleb Bolden HAS been a bright spot), and State will lean on Will Bednar in that weekend rotation against the hard-hitting Hogs. A lot of questions could get answered by both teams this weekend in StarkVegas.
---
Josh: Where would you rank Alec Burleson in a list of the top utility players in the country?
Aaron Fitt: No. 1, easily. You can make a compelling argument that he's the most valuable player in the country, with the value that he brings offensively and off the mound. He's just a stud.
---
Hank: Any thoughts on the struggles of Stanford and other power 5 schools struggling so far?
Kendall Rogers: Hank — Stanford is going to struggle all-season long. In addition to having a team filled with young players, the Cardinal is now without what I'd consider the most talented weekend starters in sophomore RHP Alex Williams, who had TJ surgery last week. If Stanford is going to turn things around … it's going to need to be a wholesale effort. Just not sure see that happening at the moment.
---
Aaron Fitt: All right gang, that'll do it for me this week. Great chat as usual, you guys brought the heat with the questions, love it. See you next week!
Kendall Rogers: Hey all — that's all the time we have this week …. make sure you're subscribed to D1Baseball. Feel free to use the coupon code seasonpreview20 to get 15% off an annual sub. http://www.d1baseball.com/subscribe
Join the Discussion