| | | | | | | | | | | | | | | | | | | | |
| --- | --- | --- | --- | --- | --- | --- | --- | --- | --- | --- | --- | --- | --- | --- | --- | --- | --- | --- | --- |
| Year | Team | POS | AVG | OBP | SLG | OPS | GP | AB | R | H | 2B | 3b | HR | RBI | HP | BB | SO | SB | CS |
| 2018 | | | .188 | .316 | .266 | .582 | 29 | 64 | 7 | 12 | 2 | 0 | 1 | 8 | 0 | 12 | 22 | 0 | 1 |
| 2019 | | | .311 | .402 | .565 | .967 | 40 | 161 | 42 | 50 | 11 | 3 | 8 | 40 | 6 | 20 | 33 | 0 | 0 |
| 2020 | TXST | OF | .322 | .438 | .644 | 1.082 | 17 | 59 | 18 | 19 | 5 | 1 | 4 | 12 | 2 | 11 | 14 | 0 | 1 |
Player Wire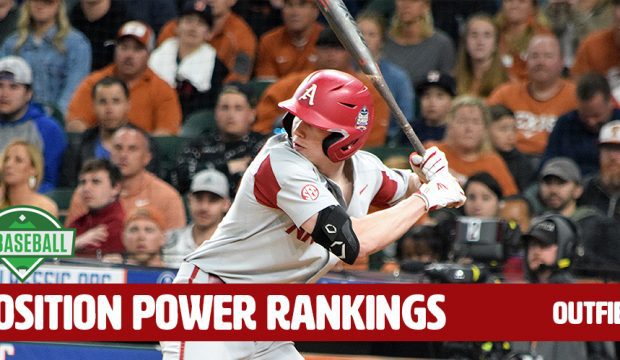 Final 2020 Power Rankings: Outfield
Arkansas slugger Heston Kjerstad edged fellow first-team All-American Austin Martin of Vanderbilt for the No. 1 spot on our list of college baseball's top 100 outfielders. Find out who else made the cut.
2020 Preseason Power Rankings: Outfield
Arkansas slugger Heston Kjerstad headlines our list of the top 100 outfielders in college baseball heading into 2020. Find out who else made the cut.
Fall Report: Texas State
Texas State fell just short of an NCAA tournament appearance last season, but new head coach Steven Trout is ready to get the ball rolling in big fashion as a new era begins.