Vandy's Rocker, Scott Put Commodores In Driver's Seat
College World Series
Want to get in-depth coverage? Subscribe to D1Baseball
---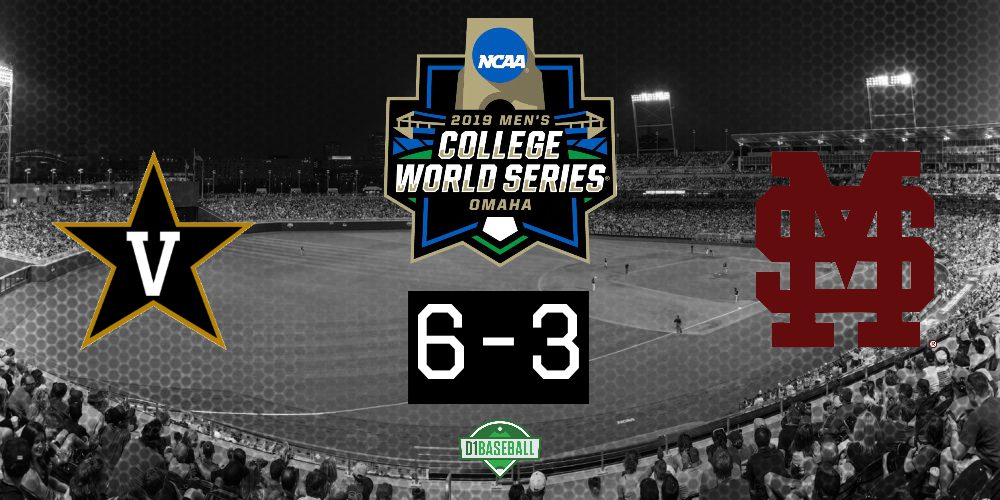 CWS Central | Coaching Buzz Blog
OMAHA — With the way Vanderbilt freshman righthander Kumar Rocker has pitched over the past two weeks, teams will take any advice they can get … even from Rocker himself.
After tossing yet another gem in the NCAA postseason in a 6-3 win over Mississippi State, a young reporter asked the imposing, mature Vandy starting pitcher a simple question in the post-game press conference.
"What advice would you have for kids facing a pitcher like you?" she asked.
Rocker had a huge smile, thought about it for a split second, readjusted his chair and answered the young girl's question.
"Ohh, say to sit fastball," Rocker said. "If they see my fastball and they sit it, they should have success with it."
If only it was that easy, right?
Rocker, the strapping 6-foot-4, 255-pounder, has had a phenomenal freshman campaign for the Commodores. He had his freshman moments early in the season but has consistently gotten better as the season progressed. He started commanding his fastball and secondary stuff better, and that has led to better results.
But while Rocker has been a known commodity in the SEC and some parts of the country, his national coming out party occurred last weekend when he put together a memorable start against Duke. With the Commodores' backs against the wall, he trotted out to the mound at Hawkins Field and became a Vandy legend and a national hit, striking out 19 batters on the way to a no-hitter and win over the Blue Devils.
Despite making history last weekend, the business-like Rocker was ready to move on after the Commodores won the Nashville Super Regional a day later. He enjoyed people marveling at his accomplishment, but he and the 'Dores still had plenty of unfinished here in Omaha.
That attitude was on full display Wednesday afternoon against Mississippi State, and just like last week, Rocker pitched like a man on a mission.
"Yeah, the no-hitter. I moved forward from that. I couldn't think of that while I was on the mound today. I knew if I went out there and tried to win that things would go well with JJ catching fire. It was a good game," Rocker said. "I think they were sitting curveball, of course, judging by the last outing. And then I just tried to move the fastball around a little bit and still had some success with the curveball. I also was working some changeups to the lefties as well."
It's impossible to not have some nerves when pitching in the College World Series, and Rocker, like many others this week, including his Mississippi State counterpart, Peyton Plumlee, also dealt with some early nerves.
In the top of the first, Vanderbilt had something going against Plumlee, as Austin Martin and JJ Bleday began the frame with singles. However, Plumlee induced a 6-4-3 double play and ended the inning and threat with a strikeout of Philip Clarke on a 76 mph breaking ball.
Rocker had the same fate in the bottom half of the inning. MSU got a leadoff single from Jake Mangum before Jordan Westburg lined out and Rocker hit three-hole hitter Tanner Allen. But Rocker walked to the back of the mound, took a deep breath and returned to the rubber ready to roll. He punched out Elijah MacNamee for the second out before inducing a fly out from Justin Foscue.
The nerves were washed away. Rocker was back in the zone for the long haul.
"Well, he handled it well. You never know when you go into this situation," Vanderbilt coach Tim Corbin said about Rocker coming off the no-hitter in Omaha. "A lot of that talk is — it's barbershop talk, so you've got to — the only thing you can control is what's possible for you, and he did that. He was in full control of his workouts leading up to this. He's been very, very consistent throughout the year.
Stephen Scott had a huge day at the plate. (Eric Sorenson)
"He's a very impressive young guy in terms of his training habits and his maturity and how he approaches the game," he continued. "And to his point, I think once he got by the first inning, I felt like, okay, he's going to pitch well. It's very difficult to get on the mound for the first time in Omaha, especially for a young kid. But I thought he handled himself appropriately and very well."
Rocker was in command throughout against the Bulldogs. He went 1-2-3 in the second inning with two strikeouts — the inning-ending one on a 96 mph heater. He gave up a two-out double to Jordan Westburg in the third, but avoided trouble, while he worked around a leadoff walk in the fourth. Rocker had a little trouble in the fifth as MSU got a single from nine-hole hitter Marshall Gilbert and Jake Mangum reached on an error. But the righty, as he has done so many times over the past week, avoided trouble with a pair of fly outs to end the inning.
Rocker finally gave up a run in the sixth on a two-out RBI single from Rowdey Jordan but avoided further damage by punching out Hatcher on a filthy 80 mph breaking ball. From a stuff standpoint, Rocker sat 94-96 in the first couple of innings, while his fastball sat in the 91-94 range the rest of the way. He showed the changeup against lefthanded hitters, while the breaking ball was a weapon as usual.
"It really looked like it was just on the same plane [the slider] as his fastball, and when you've got two pitches that can move completely different ways at completely different miles-per-hour, if it comes out of the hand the same way, it's going to be tough to keep your balance and stay behind the ball," Mangum said. "And give him credit. He threw it where he wanted to, and he's going to do well for them."
Rocker finished the afternoon with six strikeouts and walked just one, while allowing a run on five hits in six strong innings of work.
Stephen Scott was the Kumar Rocker of the offense.
Vanderbilt made waves in the first game in Omaha, as leadoff hitter Austin Martin hit two home runs in the win over Louisville. Apparently, Scott got a little jealous, because he joined the big fly party Wednesday afternoon.
Scott has developed into a premier hitter this season. He has gotten more consistent with each campaign. And while he hit for big-time power last year, he was not overly consistent. This season has been a much different story, as he entered the day hitting well over .300 with double digit home runs, all while helping give the Commodores the nation's most balanced offensive attack.
Scott struck first in the second inning as he began the game's scoring with a solo home run on a 90 mph fastball from Peyton Plumlee. He struck again in the fifth inning to put the game out of reach, smacking a three-run home run well over the right-field wall on a breaking ball to give VU a 6-0 advantage. They'd never look back.
Stephen Scott hit not one .. but two homers (Eric Sorenson)
"Zone control. I just think the ability when they get older is not to overswing and recruit power. I think he's tempered that," Corbin said. "I think he's more compact, and before he enters the zone with his bat. He's a strong kid but he's shown the ability to hit both sides of the field. He's just been consistent throughout the year. The is the most consistent he's been. But when you start piling up at-bats over time, then you start becoming more experienced, and everything else comes together."
With the win over the Bulldogs, the Commodores now sit in great shape in their side of the bracket. Drake Fellows and Rocker gave the 'Dores outstanding starts. And while the offense was quiet against Reid Detmers and Louisville in the opener, Scott exploded against the Bulldogs and JJ Bleday, who scuffled last weekend, had three hits and a walk.
A national title isn't won this week, and Vandy still has a lot of work to do. But Corbin's club has sure looked the part through two games.
Teams will take any advice they can get about these Commodores. Even if it comes straight from a Vandy player.
Join the Discussion