D1 Digest: Tuesday, Feb. 25
Roundup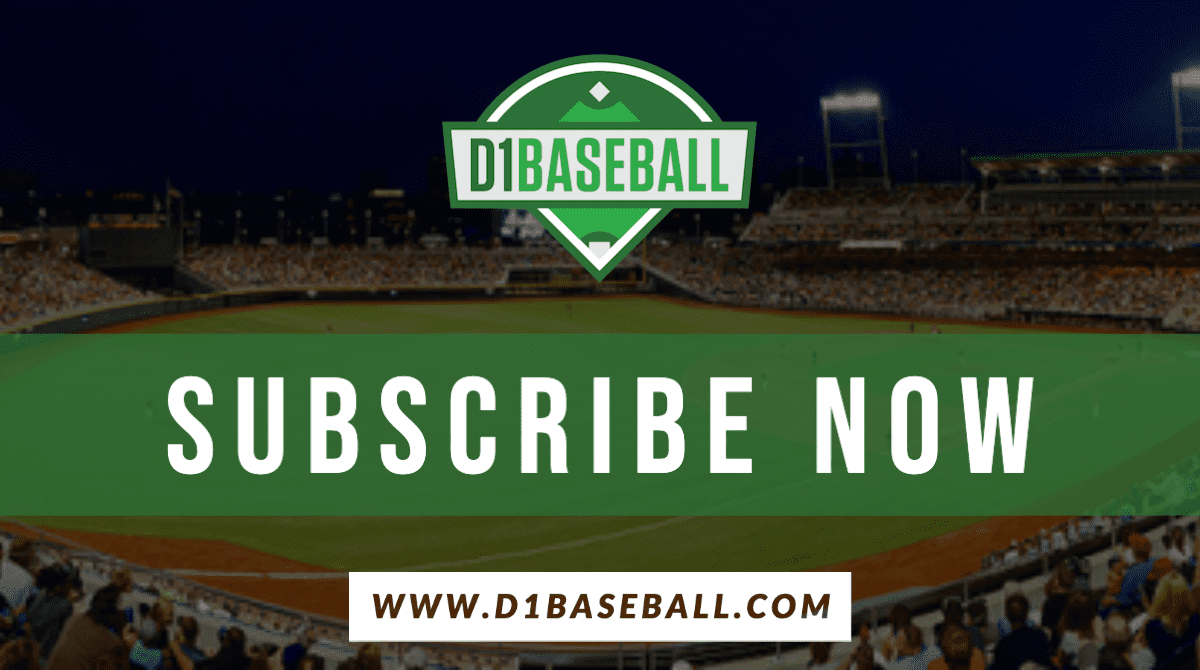 2020 Top 350 Prospects | 2021 Top 150 Prospects
---
---
Showdown of the Day: Ole Miss over Southern Miss
There were no matchups between two Top 25 opponents on Tuesday, but the battle between in-state foes Southern Miss and No. 15 Ole Miss in Oxford was plenty intriguing. Both teams entered the game with matching 6-1 records, but Ole Miss emerged from a tense affair with a 4-3 victory. The big hero was Ole Miss juco transfer Hayden Leatherwood, who delivered a pinch-hit, two-run homer in the seventh to turn a 3-2 deficit into a 4-3 lead for the Rebels. 
Ole Miss escaped some tight spots in the late innings. In the sixth, Austin Miller struck out Matthew Guidry to strand the bases loaded, minimizing the damage to just one run in the frame. And in the ninth, Ole Miss righty Braden Forsyth found himself in a first-and-third, one-out jam, but he escaped unscathed with back-to-back strikeouts, stranding the tying run at third base.
Ole Miss back on top vs. Southern Miss thanks to the 🔥 bat of @HLeatherwood9! #RebsBSB

💻 https://t.co/NjKFgkz3bH pic.twitter.com/4dU3lJiTcD

— Ole Miss Baseball (@OleMissBSB) February 26, 2020
Other Showdowns
• In a clash of two of the nation's most explosive offenses, No. 12 Arizona State beat New Mexico State 6-5 in 10 innings — in unusual fashion. The Aggies decided they wanted nothing to do with All-American Spencer Torkelson, who tied an ASU record with five walks — four of them intentional. That strategy worked the first two times, but it backfired in the eighth, when Trevor Hauer followed the free pass to Tork with a sacrifice fly. And it really backfired in the 10th, when an intentional walk to Torkelson was followed by a walk-off walk by Hauver. 
The Sun Devils got a big two-run triple from Alika Williams in the eighth and three RBIs from Hauver. The Aggies came from behind with two runs in the ninth to tie it — scoring on a balk and an error — but ASU ultimately prevailed to improve to 6-3. New Mexico State dropped to 8-1. After the game, ASU revealed that catcher Sam Ferri will miss the rest of the season with a knee injury suffered Sunday against Villanova, reported D1Baseball intern Karli Matthias. That's a big blow for the Sun Devils, who were relying heavily upon the talented but injury-prone Ferri. Senior Nick Cheema has taken over as the lead catcher.
HUGE hit from @Alika_Williams here.@Trevor_hauver brings him home with a sac fly after Tork gets his 10th IBB of the year.

5-3, Devils! pic.twitter.com/2JyfUt7NYO

— Sun Devil Baseball (@ASU_Baseball) February 26, 2020
• No. 13 NC State waxed CAA favorite UNC Wilmington, 11-0. The red-hot Devonte Brown put the Wolfpack in charge with a three-run homer in the first inning, and NCSU never looked back. Brown, who has long tantalized with his raw power/speed tool set, has gotten off to a blistering start — he's now .448/.500/1.000 with four homers and 16 RBIs during NC State's 8-0 start. Tyler McDonough is also off to a great start, improving to .419 on the year with three hits and two RBIs on Tuesday. Fellow sophomore Luca Tresh, a prime breakout candidate with big raw power, logged his first at-bats of the season, going 2-for-4 with a homer in his return from injury. 
The Wolfpack also got 4.2 innings of three-hit, shutout work from starter David Harrison, and highly regarded freshman Matt Willadsen worked 1.2 scoreless, hitless innings to earn his first career victory.
B5 | BACK LIKE HE NEVER LEFT‼️ In just his second at bat of the season, @ltresh34 goes yard to extend our lead.

📺https://t.co/QlnfYX9I0I#Pack9 7, UNCW 0 pic.twitter.com/XusmUarQFh

— #Pack9 ⚾️ (@NCStateBaseball) February 25, 2020
• There's no question No. 25 Long Beach State is the surprise of college baseball so far, having taken a series from California and swept preseason No. 18 Wake Forest in the first two weekends, after going 14-41 last year. You can make a case that Eric Valenzuela's Dirtbags are the biggest story in all of college baseball to this point in the young season. And they just kept on winning Tuesday, smacking around San Diego 10-3. The Toreros had started 6-1 with some quality wins on their resumé, so this is another good victory on Long Beach's ledger. A two-run homer by Leonard Jones highlighted a four-run third for the Dirtbags, who broke the game open with three runs in the sixth and three more in the seventh. This was a lop-sided affair that saw Long Beach out-hit USD 15-2.
Upset of the Day: Texas Southern over No. 8 Mississippi State
This one might be the head-scratcher of the month of February, and here's why: Texas Southern entered Tuesday with an 0-9 record, and a mind-boggling run differential of minus-68 in those nine games. The Tigers had a team ERA of 10.62 and a batting average of .219 entering Tuesday. So naturally they waltzed into Starkville and pushed around the eighth-ranked Bulldogs, 8-4. Of course they did. Mississippi State actually jumped out to a 2-0 lead in the first, but it was pretty much all Texas Southern after that. The Tigers took the lead with three runs in the second, MSU tied it with a run in the bottom of the frame, and TSU took control for good with four runs in the fourth, highlighted by Victor Bueno's two-run single. A couple of MSU errors proved costly, leading to four unearned runs in the game. And TSU got solid mound work from Camden Guarnere (5 IP, 6 H, 3 ER) and Robert Loza (3.1 IP, 1 H, 1 ER). How big was this win for Texas Southern? Just ask coach Michael Robertson. 
Texas Southern Coach Michael Robertson on @TXSOTigers 8-4 upset victory at #6 Mississippi St: "This is the 2nd-biggest win n the history of the university. You'll remember the win in the(2004) regional against (defending national champion)Rice-This sends a message about @theswac"

— Mark Berman (@MarkBermanFox26) February 26, 2020
Other Top 25 Upsets
• UT Arlington knocked off No. 23 Dallas Baptist, 6-3. The Mavericks broke a 1-1 tie with a five-spot in the fourth, highlighted by back-to-back homers by Phillip Child (a two-run shot) and Josh Minjarez. UTA also got four innings of one-hit, shutout ball from Wyatt Divis, who earned the win in relief. The Mavs improved to 6-2 on the year, and 1-1 against cross-Metroplex foe DBU.
Quick-Hitters
• UT Rio Grande Valley knocked off Houston 6-5 in 12 innings, with help from a triple play to end the 11th. UTRGV won it on a sacrifice fly in the 12th. Freddy Rojas Jr. had a double, a homer and four RBIs for the Vaqueros, who improved to 3-5 — while dropping Houston to a very disappointing 2-5. Houston did have this highlight-reel catch in a losing effort: 
WHAT A CATCH, @Tybielamowicz! To the bottom of the ninth.

M9 | UTRGV 5, UH 4#M64 #GoCoogs pic.twitter.com/q9fcovSdBu

— Houston Baseball (@UHCougarBB) February 26, 2020
• In a matchup between two teams that entered the day with 6-1 records, No. 21 East Carolina earned a nice win over Elon, 7-2. Bryson Worrell homered and drove in three for the Pirates, and Cam Colmore worked four hitless innings out of the bullpen to earn the win.
• This just in: Jack Leiter is filthy. The Vanderbilt blue-chip freshman righty worked five innings of one-hit, scoreless ball in a 6-0 win over Evansville. 
• East Tennessee State has quietly gotten off to a 6-2 start after earning a big road win at previously unbeaten Clemson. Jake Lyle went 2-for-3 with a double and two RBIs in support of Tucker Rogers (5 IP, 2 ER) to lead ETSU to a 5-3 win.
• No. 4 Georgia unloaded on Kennesaw State, 15-1. Cam Shepherd homered twice and drove in five to lead Georgia's four-homer barrage in support of power-armed redshirt freshman Garrett Brown (5 IP, 3 H, 1 ER, 2 BB, 8 K), who earned his first career win.
• No. 17 Georgia Tech stayed hot on offense with a 14-1 thrashing of Gardner-Webb, which had entered the game with a 5-2 record. The Yellow Jackets put up an eight-spot in the first inning, highlighted by a two-run homer by Colin Hall, a three-run shot by Drew Compton, a solo shot by Stephen Reid — and then an RBI triple by Hall later in the frame. The Jackets are 7-1.
• Veteran lefty Jaylyn Whitehead threw five innings of one-hit, shutout ball while walking one and fanning eight to lead No. 19 UCF past Bethune-Cookman, 6-0.
Join the Discussion