D1 Digest: Tuesday, May 9
Roundup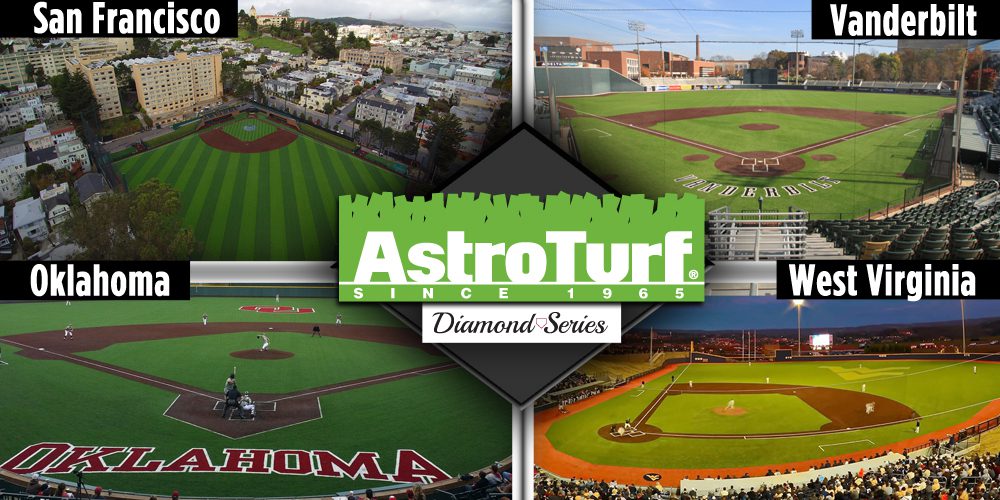 ---
At the Ballpark: Fullerton edges UCLA
FULLERTON, Calif. — I spent Tuesday night at Goodwin Field, where Cal State Fullerton hosted rival UCLA in a competitive, low-scoring affair. The two teams were locked in a scoreless tie until the fifth, when UCLA starter Justin Hooper issued back-to-back walks and then exited the game. An error then opened the door for the Titans to score three runs, capped by consecutive RBI singles by Taylor Bryant and Zach Weller. Fullerton added another run on Hunter Cullen's solo homer in the sixth, and that run proved important, as UCLA scored three runs in the eighth inning. But the Titans held on for the 4-3 win.
Fullerton's Maxwell Gibbs, Gavin Velasquez, Erik Cha and Joe Wills combined to hold UCLA scoreless on two hits through seven innings. None of them touched 90 mph, but they all located down in the zone with sinking life. Velasquez turned in four innings of no-hit relief, pounding the bottom of the zone at 85-88 with good angle and mixing in a very effective 70-72 curveball, which has better late bite than you typically see from that kind of slow curve.
Cal State Fullerton righty Gavin Velasquez (Aaron Fitt)
"He was more ahead in the count in the bottom of the zone," Fullerton coach Rick Vanderhook said. "He threw the ball to the bottom of the zone good. He threw it in and out, he stayed away and then came in and would spin it. That's what he does. He's been pushed into a starting role, and that wasn't what we imagined him to do, and he's done very well for us in that role, but tonight was more about what he does. He came in and gave us four good innings of relief, and that's a big deal for him and for us."
UCLA's bats finally woke up in the final two innings against Fullerton power relievers Jack Pabich and Brett Conine, who both sat in the low 90s and bumped 94 with quality upper-70s breaking balls. The Bruins had four straight hard hits in the eighth, three of them doubles, but Conine was able to strand two baserunners in both the eighth and the ninth to notch his 11th save in 11 tries. Conine, a physical righty, has blossomed into one of the premier closers in the West — and the country — as a sophomore.
"He's different," Vanderhook said. "He's older, he's bigger, he's got tilt, (pitching coach Blake Hawksworth) got him a harder curveball."
Tuesday's other hero, Cullen, is also a completely different player than he used to be. He was just 9-for-46 over the last two seasons at Fullerton, but he has become a difference maker since taking over for the injured Ruben Cardenas in right field this spring. He's hitting a solid .279/.347/.426 with four homers and nine stolen bases.
"I can't describe how far (he's come)," Vanderhook said. "I mean, you're talking a guy that had a .170 career average that's got some home runs and got some two-out hits, got some RBIs and scored runs and stole bases and played good defense. The game on ESPNU, he laid out into the mound over there, and he was on SportsCenter. He's turned into a baseball player, and that's fun to watch."
—Aaron Fitt
Cal State Fullerton's Hunter Cullen (Aaron Fitt)
Team of the day: South Florida
The Bulls entered the week in the running for a regional host site, and Mark Kingston's club received a much-needed shot in the arm with a 15-10 road win over Florida. USF starting pitcher D.J. Roberts put together a solid start, allowing three runs — two earned — on six hits in seven innings, while the offense led the charge with first baseman Joe Genord smacking a pair of homers, while Luke Borders hit a home run and Coco Montes collected a pair of hits.
So, what does this win do for the Bulls? USF is now up to 19 in the RPI with a 38-10 overall record, 7-1 mark vs. RPI Top 50 and 19-8 mark vs. RPI Top 100. Take care of business this weekend and you could see the Bulls move in as a host sooner rather than later.
Upset of the day: UAB over No. 14 Auburn
It's safe to say Auburn needs to go on the road and take care of business against LSU later this week to stay in the mix for a host site. Auburn stumbled over the weekend with three losses to rival Alabama at home and dropped to the mid-30s in the RPI. Well, the Tigers' struggles continued Tuesday night in an 8-2 loss to UAB. UAB's Colton Schultz, Brewer Hicklen and Price Visintainer led the way offensively with a pair of hits and two RBIs. As for the Tigers, they are now down to 40 in the RPI after the loss to the Blazers. What. A. Fall.
Congratulations to @UAB_Baseball on the big win over No. 14 Auburn in front of a record crowd at Regions Field! pic.twitter.com/9UflfnbeTB

— UAB Football (@UAB_FB) May 10, 2017
More upsets:
— High Point upset No. 21 Wake Forest 5-3 in midweek action. HPU's Hunter Lee hit a home run and knocked in two runs, while it used a whopping nine pitchers in the victory.
HUNTER LEE!!

Not sure how… but he did! #SCTop10

(via @HPUBaseball)pic.twitter.com/u8sbMA72ra

— NCAA Baseball (@NCAACWS) May 10, 2017
— Richmond surprised everyone Tuesday night with a 5-1 win over No. 25 Old Dominion. Richmond starting pitcher Layne Looney struck out six and allowed just four runs in six shutout innings, while Jonathan De Marte and Kyle Adams each had two hits and two RBIs.
— South Alabama scored three runs in the top of the ninth inning to beat LSU in Baton Rouge, 7-6. Travis Swaggerty and Jared Barnes each had two hits and two RBIs, while Andy Arguelles was outstanding on the mound, striking out eight and allowing just four hits in 6.1 shutout innings.
— Arizona State followed up its Sunday win against Stanford by out-slugging rival Arizona 14-13 in Tucson. Freshmen Lyle Lin and Hunter Bishop combined for seven hits to lead ASU's 17-hit barrage, and the Devils needed every hit they could muster. ASU led 10-6 after seven innings, but Arizona came back to tie it with four runs in the eighth, capped by Nick Quintana's three-run homer. The Devils answered with four of their own in the top of the ninth, highlighted by Carter Aldrete's two-run single. But Arizona wasn't done — it scored three more in the bottom of the ninth before its rally ran out of gas.
— Washington's postseason resume took a hit Tuesday night with a 7-5 home loss to Seattle, which entered the night with an RPI of 279. Tyler Oldenberg put together a solid start, allowing just a run on five hits in five innings, while Griffin Andreychuk went 2-for-4 with a pair of doubles and three RBIs.
National Notables
— UL Lafayette picked up a big midweek win over surging Louisiana Tech, 3-1. Cajuns righthander Evan Guillory allowed a run on five hits in five innings, while Kennon Fontenot led the charge offensively with a pair of hits. With the win, the Cajuns are up to 53 in the RPI (from 59 earlier in the day).
— Fresh off a weekend series win over Connecticut, Houston picked up a 6-5 win over crosstown rival Rice. UH's Nick Slaughter went 2-for-4 with three RBIs, while Connor Wong, Joe Davis, Jake Scheiner and Jared Triolo each collected two hits in the contest.
SOUND | @toddwhitting on tonight's come-from-behind 6-5 win over Rice #M64 pic.twitter.com/t05SMFqdz3

— Houston Baseball ⚾️ (@UHCougarBB) May 10, 2017
— Kentucky bounced back from a tough home series loss to Georgia over the weekend with a 5-2 victory over Indiana. UK's Evan White had a pair of doubles to lead the offense, while Zach Reks had two hits and two RBIs and leadoff hitter Tristan Pompey recorded three hits.
— Louisville picked up a strong midweek win over Vanderbilt, 6-2. UL starting pitcher Rabon Martin allowed two runs (one earned) on three hits in four innings, while offensively, Josh Stowers led the charge with a home run and three RBIs. Shortstop Devin Hairston also had a big day at the plate with a pair of hits, while Vandy righthander Matt Ruppenthal scuffled on the mound with four runs allowed on five hits in four innings.
Louisville's Colin Lyman with the ridiculous catch in right field in 6-2 win over Vandy. #SCtop10 @KendallRogersD1 @aaronfitt @mlananna pic.twitter.com/Ixe0ryjCrB

— Jody Demling (@jdemling) May 10, 2017
— Freshman Erik Miller threw six innings of two-hit ball and Colton Hock set a school record with his 14th save of the season as Stanford shut out San Francisco 4-0. The Cardinal has won 12 of its last 13.
— No. 3 North Carolina rallied from behind with three runs in the ninth against Davidson, and Ashton McGee's RBI double in the 10th gave the Tar Heels their third straight walk-off victory. How about this little tidbit? UNC actually has a winning record (5-4) when trailing after seven innings this season. The Heels have won seven straight games.
In Case You Missed It …
6 HOME RUNS AND 16 RBI in 1 GAME!!

18 years ago today, Florida State's Marshall McDougall had a game for the ages: https://t.co/zACfrLvvf9 pic.twitter.com/nP4HTxXc4z

— NCAA Baseball (@NCAACWS) May 9, 2017
Join the Discussion