Today's Schedule
| | | | |
| --- | --- | --- | --- |
| 4:00 PM | | | |
| | South Florida | | |
| | Florida A&M | | |
Yesterday's Schedule
| | | | |
| --- | --- | --- | --- |
| FINAL | | | |
| | Connecticut | 7 | |
| | 13 Michigan | 1 | |
MLB4 Collegiate Baseball Tournament, Scottsdale, AZ
| | | | |
| --- | --- | --- | --- |
| FINAL | | | |
| | Siena | 2 | |
| | UCF | 10 | |
| | | | |
| --- | --- | --- | --- |
| FINAL | | | |
| | Cincinnati | 7 | |
| | Kennesaw State | 11 | |
Atlanta Challenge, Kennesaw, GA
| | | | |
| --- | --- | --- | --- |
| FINAL | | | |
| | William & Mary | 4 | |
| | 21 East Carolina | 7 | |
| | | | |
| --- | --- | --- | --- |
| FINAL | | | |
| | Marist | 2 | |
| | South Florida | 4 | |
| | | | |
| --- | --- | --- | --- |
| FINAL (10) | | | |
| | Youngstown State | 8 | |
| | Houston | 6 | |
| | | | |
| --- | --- | --- | --- |
| FINAL | | | |
| | Wichita State | 2 | |
| | Northwestern State | 3 | |
| | | | |
| --- | --- | --- | --- |
| FINAL | | | |
| | Florida Gulf Coast | 1 | |
| | Tulane | 6 | |
| | | | |
| --- | --- | --- | --- |
| FINAL | | | |
| | Xavier | 9 | |
| | Memphis | 6 | |
American Athletic Conference Leaders
Stats will be available after conference play begins.
American Athletic Conference Headlines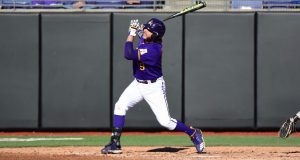 Top 25 Breakdown: No. 21 East Carolina
Kendall Rogers - January 17, 2020
East Carolina continues to have a wealth of success, but Alec Burleson and the Pirates are still looking for the program's first trip to Omaha.
2020 D1Baseball Preseason Top 25
D1 Baseball Staff - January 13, 2020
For the first time in the history of the D1Baseball Top 25, Louisville is ranked No. 1 heading into 2020, headlining preseason rankings that are chock full of ACC and SEC contenders.
ECU's Mr. Perfect: The Dazzling Rise Of Jake Kuchmaner
Josh Conner - March 20, 2019
East Carolina's Jake Kuchmaner pitched sparingly as a freshman, but he's suddenly a big name in college baseball after a remarkable three-game stretch capped by a perfect game.
2019 Conference Previews: The American
Aaron Fitt - February 1, 2019
The American Athletic Conference is loaded with legitimate postseason contenders as usual, led by ECU, Houston, UConn and UCF.
ECU-UH Heading Different Places
Kendall Rogers - April 11, 2017
Houston might have some drama with Seth Romero, but we look at Jake Scheiner, the Cougars and East Carolina in our latest notebook.
Fall Snapshots: Dissecting Teams 21-25
Kendall Rogers - September 16, 2016
We wrap up our fall snapshots with an in-depth look at Virginia, Vanderbilt, Tulane, Louisiana-Lafayette and Dallas Baptist.
2016 Conference Previews: The American
Kendall Rogers - February 8, 2016
Corey Julks and Houston have their eyes on the prize yet again, as we break down each American Athletic Conference team, rank prospects and make predictions.