Believe in Beres: Bruins Win Epic Comeback
Top Stories
This offseason, we are revisiting D1Baseball's best content from the 2022 season with the Best of D1 series. Every Monday and Friday, we will choose a different piece of content to highlight from our incredible staff and make it free to access, even without a subscription. If you enjoy the work we do and want to see more quality coverage of college baseball, click here to subscribe today and use promo code BestD1 for 20% off an annual subscription!
SCOTTSDALE, Ariz. — After giving up a 7-2 lead, leaving the bases loaded three times in the first four innings and having to dig deep in the barrel to find anyone to put out on the mound, John Savage was already preparing his team for next week's regionals.
His UCLA Bruins had other thoughts.
Savage put in backup catcher Tommy Beres in the sixth inning to give Darius Perry a breather. The game had already passed the three-hour mark in triple-digit heat and Perry had caught every inning of the last six and a half games. He had been behind the dish for all 565 Bruins' pitches through three and a half Pac-12 tournament games in the 95- to 105-degree heat this week at Scottsdale Stadium.
By the time the sixth inning was over, UCLA was down a touchdown, trailing 17-10. Oregon State had scored 15 of the last 18 runs. The Bruins were closer to being run ruled than making a comeback to force the 'if necessary' game between the two teams to be played later in the evening.
"We just were really giving Darius a blow. And potentially get Darius ready for next week," Savage said of his substitution. "Tommy goes in and knocks in seven runs. I just, I don't know. It's an amazing game."
Beres, who had one career multi-hit game and six RBIs in his college career, was the catalyst and concluder to an epic, unbelievable comeback that left most everyone speechless when trying to describe what happened. Savage sounded almost somber as he tried.
"It's hard to put any words to that. I've never really experienced that at this level," he said, nearly in a state of shock. "All I can say is this is a very, very offensive place and it became more offensive as the day went along. You got some really good hitters and good at-bats and a lot of ground balls seemed to be going through. I don't know. It's hard to put words on it."
After a scoreless seventh inning where UCLA left the bases loaded once again, the teams traded a pair of runs in the eighth inning with Beres hitting a two-run single. Oregon State tacked on two more runs in the ninth to make the score look very much like a late '90s guerrilla ball battle at 21-12. The teams had already combined for 33 runs and 41 hits, but the Beavers had full control.
Savage was trying to get some bench guys an at-bat. After Carson Yates reached on an error, Jack Holman pinch hit and drew a five-pitch walk. Jake Moberg wasn't waiting when he pinch hit, lining the first pitch he saw to right field for a base hit to load the bases for the umpteenth time in the game for the Bruins.
Daylen Reyes was hit with the next pitch. RBI. 21-13. Michael Curialle chopped a 1-1 pitch back up the middle for a two-run single. 21-15.
Suddenly things were getting interesting. Oregon State brought in reliever Victor Quinn while simultaneously having closer Ryan Brown start throwing in the bullpen. Quinn threw three straight warmup pitches to the backstop. When he finally hit the mitt, he drew a sarcastic cheer from the Beaver-heavy crowd of 3,321.
The freshman righthander lasted four pitches. His walk of Ethan Gourson reloaded the bases. Before Gourson made it to first base, Brown was opening the bullpen gate. He carried some of Quinn's juju with him. Brown threw a pitch to the backstop and then walked the first batter he faced, though on six pitches, peppering just outside home plate umpire Billy Van Raaphorst's tight strike zone. The Beaver faithful, as they would throughout a marathon ninth inning, screamed their displeasure at Van Raaphorst as a runner trotted home. 21-16.
Brown got two strikes on Beres, but left a slider up. Beres drove it to left field rolling it to the left field wall in front of the Oregon State bullpen that was now empty. Two more runs scored. 21-18.
Kenny Oyama lined an 0-2 pitch, flaring it just over the leaping attempt of shortstop Kyle Dernedde. Kyle Karros and Beres raced home on Oyama's fifth hit of the day, making it a one-run game. 21-20.
Oyama was lightning out of the box, knowing that several balls hit between outfielders in the Pac-12 tournament have gone for extra bases. There was no hesitation as he rounded and dug for second base. He dove in head first away from a throw that wasn't on line.
UCLA had batted around in the ninth inning without Oregon State recording an out!
The first out of the frame came on a grounder by Yates that moved Oyama — the tying run — 90 feet away. Holman was back up. He fouled off three straight, rolling over the top of each. He took a ball and then rolled over another, chopping it to first base against a drawn-in infield. Holman glanced over his shoulder as he saw Garret Forrester field and fire. Oyama was going to be hosed at the plate. Catcher Gavin Logan caught the ball on the first base side of the plate and spun to tag Oyama, who was diving head first to the outside corner.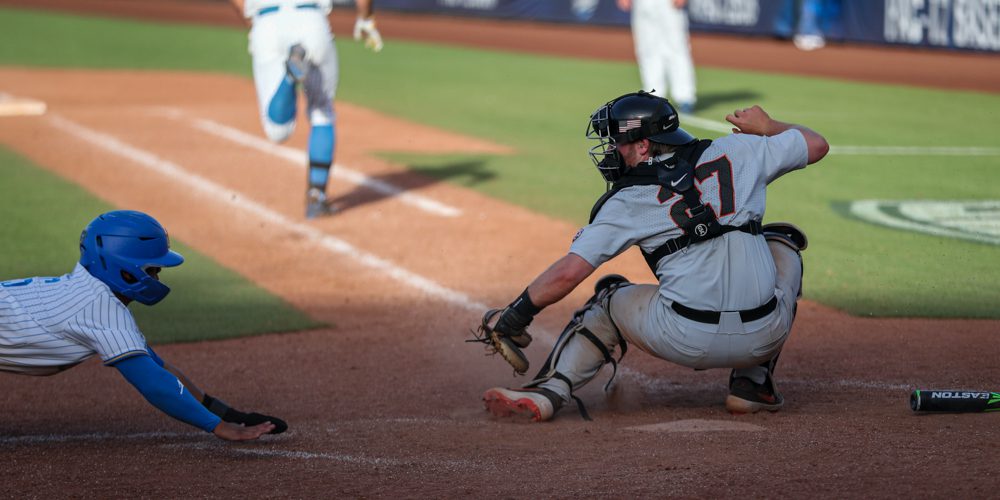 Logan applied the tag with a wince of anguish on his face as he spun onto his left side. He looked in his glove and saw it did not contain a baseball. The ball had somehow become dislodged from his mitt. Oyama slapped the plate with his hand just to verify his scoring. Inexplicably the game was tied. 21-21.
The Beavers had blown a nine-run lead in the span of a single out.
They had once given up nine runs in an inning this season, but this wasn't in the midst of a random two-game midweek set at Nevada, this was in the inaugural Pac-12 tournament with a chance to clinch a spot in the championship game. To add injury to the insult of the situation, Logan, who has been one of Oregon State's hottest hitters this weekend, stayed down on the ground following the play. He exited with the assistance of head coach Mitch Canham and a trainer, limping to the bench with a lower body injury.
In that March matchup with Nevada, Oregon State had bounced back to tie the game two innings later and win in extra innings. It'd get the same opportunity Saturday. The Beavers responded with a run in the 10th inning as Matthew Gretler hit a bloop double and scored on a Justin Boyd single. After all the energy exerted, all the work the Bruins had done to rally in the ninth inning, they trailed in extras. 22-21.
Instead of deflation, the UCLA dugout took the punch and got back to work.
"Those guys they really didn't blink an eye," Savage said. "It just felt like they just kept playing. Both teams kept playing. I mean, that could have gone either way."
It went the Bruins' way as the heart of the lineup, which had 12 hits and 13 runs scored, delivered. Curialle singled. Gourson doubled, leading Oregon State to intentionally walk Karros. A controversial balk call tied the game, bringing up Beres with two runners in scoring position and no outs. Instead of another intentional walk to load the bases again, Oregon State brought the infield in, Intent on attacking Beres rather than Oyama, who already had five hits and five RBIs.
But Beres got a ball up and was able to hit it over the drawn-in infield…way over the infield. Over the outfield as well and over the left field fence for a walk-off three-run homer, the first home run of Beres' career and UCLA's first homer of the weekend — the last team in the Pac-12 tournament to hit a home run — after the Bruins had surrendered nine as a team. 25-22 UCLA. Ball. Game.
When the ball lifted into the sky, Gourson went to the third base bag to tag up to score on a potential sacrifice fly. Karros just watched a couple steps off second base. When it went out, Gourson put his hands to the side of his helmet in shock as he trotted him. Karros didn't even run initially. He just looked back at Beres with a big grin of disbelief.
The Bruins' dugout exploded onto the field and went to the home plate dirt to await their unlikely hero. Beres' smile carried him around the bases like a magic carpet. He tossed his helmet up in the air as he approached the plate and jumped up coming down with a stomp on the plate as his teammates mobbed him.
A five-hour, 44-minute game concluded with 47 runs scored on 53 hits, 20 walks, three hit batsmen and five errors. Forty-two players had been used, including 16 different pitchers and only one — Oregon State righthander AJ Lattery — didn't allow a run. There were 527 pitches thrown, including 215 balls with each team surpassing triple-digit pitches outside the strike zone.
Ten different players had at least three hits. Center fielder Justin Boyd set the Oregon State school record with six hits while the Beavers' 28 hits were a school record as well. The two participants involved in the game-tying play at the plate — Gavin Logan and Kenny Oyama — both had five hits and five RBIs. Garret Forrester hit two home runs and drove in six runs, but ultimately no one had as big a performance as Tommy Beres.
Three hits, two for extra bases and seven runs batted in — more than double the career RBI total he entered the day with. All after his head coach subbed him in to get the starter ready for next week.