Titans Best Rivals to Return to Omaha
Postseason
LONG BEACH, Calif. — As Cal State Fullerton closer Brett Conine leaned in to get the sign, his twirled Guy Fawkes mustache glistened in the sun. Fawkes had plotted to blow up the House of Lords in London. Conine was plotting to blow up Long Beach State's College World Series dreams at Blair Field.
Drama.
With Big West rivals Cal State Fullerton and Long Beach State squaring off, you knew there was going to be plenty especially in a theatre like the super regionals where a berth to Omaha was on the line. The teams play a similar brand of West Coast small ball focused on pitching, defense and manufacturing runs, which lends itself to tight, low-scoring battles.
Leading 2-1, Conine had already struck out Ramsey Romano to strand runners at second and third in the eighth inning. In the ninth, Brock Lundquist led off with a double. Long Beach tried to bunt him over to third base, but after Luke Rasmussen got two strikes, he attempted to slash and popped out. Pinch hitter Alex Muzzi hit a slow roller to shortstop that moved the tying run 90 feet away, but also put the Dirtbags down to their final out.
Conine has a good curveball, but had only thrown the big breaker twice in 38 pitches. If he spiked a wild pitch, Lundquist would score the tying run. Conine took a deep breath, came set and threw his best curve of the day, getting David Banuelos to swing over the top as the pitch dropped off the table. Three breaking balls for three strikeouts.
"If you've got a runner at second base with nobody out at Long Beach State, you've got to score that run," Dirtbags head coach Troy Buckley said. "There's no question. You've got to score that run."
Cal State Fullerton was heading to the College World Series for the 18th time in program history, beating their rivals to win the decisive Game 3 of the Long Beach Super Regional. After losing the series opener to fall to 1-6 against Big West champion Long Beach State on the season, Fullerton (39-22) beat the Dirtbags (42-20-1) in back-to-back games — something no team had done in two months.
"You can have the Big West, but I'll take Omaha," Fullerton starter and winning pitcher Colton Eastman said after the game.
Conine pirouetted on the mound after locking up his 15th save. Catcher Chris Hudgins tagged Banuelos and then jogged out for a hug. Soon the Titan battery had been taken to the ground and everyone was leaping atop of the pile. What had been an energetic crowd all weekend was exhilarated on one side and silent on the other. The dejected Dirtbags peered over their dugout rail, watching their most hated baseball enemies celebrate on Long Beach State's field.
"I'm glad we won," Titans head coach Rick Vanderhook said. "I would have been sad if we lost, but that was epic baseball back and forth."
Small Ball
Dillon Persinger emphatically stomps the plate, scoring on Hank LoForte's single. (Shotgun Spratling)
The Titans managed only two hits, but made it work. It wasn't until the fourth inning that they got their first, but it came at the opportune moment.
After the first two batters were hit by pitches, Vanderhook chose to have his hottest hitter, Timmy Richards, lay down a sacrifice bunt. Richards advanced both runners to bring up 5'6" Hank LoForte. The smallest designated hitter in all the land watched a looping curveball for strike one. Long Beach State starter John Sheaks followed with a slider. It had good height, but caught too much of the outer half of the plate.
LoForte lined the ball up the middle for a single.
"They don't throw me fastballs," LoForte said. "They threw that first [breaking ball] in, so I was sitting on the next one. I got inside of it and that was my approach and we scored two. Two is amazing, especially with Colton on the mound. That's all you really need with him."
LoForte said it was the "biggest accomplishment" of his career. It was classic West Coast small ball — get 'em on, get 'em over, get two runs in with the first hit of the game.
It would be the only hit the Titans needed.
Electric Eastman
Colton Eastman struck out eight and allowed only one hit. (Shotgun Spratling)
For the first time this season, Eastman entered a start with no restrictions. No pitch count. No innings limit. He was officially 100 percent back after missing 10 weeks with a nerve issue in his pitching elbow.
This was the exact scenario Fullerton's coaches and medical staff had envisioned when Eastman returned to throwing in April. It was also the one the Long Beach State coaching staff tried to avoid by pitching Dave Smith on Saturday.
Eastman's mix was electric. He had all three pitches working. His fastball was 90-92 and touched 93 early. His 78-mph curveball gave Long Beach State fits all day and he wasn't afraid to throw his changeup in any count to lefties.
His effort was eerily similar to his Big West clinching effort on the final day of the 2016 regular season when Fullerton also beat Long Beach State by a 2-1 margin. For Eastman, last year was intense. This year was insane.
"The crowd was way louder," Eastman said. "Last year, I went eight innings, but it felt like it went by like that. Today, I just had to breath and tell myself next pitch. The crowd was behind me and I felt it.
"I did whatever I could to help our team go, so I'm ecstatic. We're going to Omaha and I'm back."
Eastman pitched out of self-induced jams in the second and seventh innings. He walked two batters on eight pitches in the second before re-focusing and getting back-to-back groundouts. In the sixth, Jarren Duran led off with a single and stole second when Richards couldn't hold onto the throw. He scored after a sacrifice bunt and a passed ball.
Another stolen base put a runner in scoring position in the seventh after Eastman issued a two-out walk, but he got Banuelos to ground out. As he left the mound, Eastman kicked his leg, pumped his fists and let out a roar. He had pitched seven innings, allowing only one hit and an unearned run. He threw a season-high 106 pitches, walking four and striking out eight.
The Glue Guy
Senior Timmy Richards and head coach Rick Vanderhook embrace. (Shotgun Spratling)
While all of his teammates were leaping through the air and splashing down on top of the dogpile, Cal State Fullerton's senior shortstop declined. Richards stood beside the mass with a wide smile and handed out hugs to some of the veterans.
After the coaches shook hands and walked out toward the mound, Richards sought out his head coach and the two embraced for a hearty bearhug.
"Four years with Hooky. We've gone at it. We've hugged out going to Omaha at Louisville," Richards said. "This year has had its up and downs. We've played some really big games and won and we also lost a lot of good games. Hooky leads this team. He does everything he can to put us in the best positions to win. Right there, that was just us sort of embracing and just letting each other know we did it and we're going back to Omaha."
Vanderhook was just as quick to credit Richards.
"Timmy Richards, the old man of the team, kind of kept the glue together because it could have crumbled. If you're weak of mind, there was plenty of times to crumble in that game and I don't think we did. I credit Timmy with that."
Whenever someone needed a pep talk or a pitcher needed calming, Richards was there with the right words of encouragement. He knew what his teammates needed to hear and how to help them succeed.
"All the pitchers are different. With Colton, I pretty much just try to go out there and make him laugh. He's an angry guy. He's really competitive on that mound and sometimes he gets going a little fast when he's trying to get guys out, so I pretty much just run out there and tell him to 'stop being a baby,' 'throw a strike right here,' 'you're better than these guys'…something like that.
"With Brett, I'm pretty much just going out there and slowing him down. He's young, but he did a great job today."
Conine's appearance might have been viewed differently if it weren't for Richards' defense. Long Beach State's Laine Huffman hit Conine's first pitch deep in the hole on the left side. Richards was prepared. He had studied Huffman's tendencies, noticed where the majority of his postseason hits had found holes. He knew where the ball was going even before the pitch was made.
"He gets base hits though that six-hole all the time, so I was kind of leaning that way. I knew we were throwing him a first-pitch fastball and he was going to try to hit it there."
Richards backhanded a hard grounder, took two small steps and leapt in the air. He fired across the diamond, sending a one-hop throw to Dillon Persinger.
"It was kind of the play I was envisioning happening and it happened. I just tried to give Pers a good throw to catch."
Persinger clamped down his glove on the ball to nail Huffman and keep the leadoff man off base in the eighth inning. It proved critical after Duran and Tancas both singled. Instead of the tying run scoring and Long Beach State taking the momentum, Conine was able to escape the jam unscathed.
Firestarter
The Dirtbags will look to Jarren Duran to be a leader next season. (Shotgun Spratling)
You could see the pain in Jarren Duran's face hidden behind the intense blank stare he had. He looked into the abyss of reporters glaring at him during the post-game news conference.
Asked what was going through his mind while watching Cal State Fullerton celebrate on his home field, Duran was quick to retort, "I can't say that."
It is guaranteed there was some rivalry vitriol that could have sprung from his tongue in a private setting. This was the same Fullerton team that hit him in the face with a pitch and broke two bones earlier in the season. He avoided becoming the story with an honest answer, but Duran had already been the story for the Dirtbags all weekend.
If last weekend's .429, 0, 6 regional effort was a coming out party, going 4 for 11 with a walk and hit by pitch and scoring two of Long Beach State's four runs against Fullerton was the after party. On Sunday, he had two of the Dirtbag's four hits and scored their only run. He also collected his 19th stolen base of the season.
"He was fantastic. We all kind of witnessed this," Buckley said of Duran's postseason ascension. "It was kind of a trending on Twitter coming out party for JD, especially at home. We've been able to see him for two years now — competitive, aggressive, got way better on the defensive side of the ball over the course of his time.
"He's learning to get the bat on plane, so he can handle things. He knows he's going to have to cut down on his strikeouts, that he's going to have to take some walks, but he can beat you in a lot of different ways. He's got a bright future. He's going to grow and he's going to be a big part of us coming back next year and putting together hopefully another quality year."
Rather than heading to Omaha, Duran will soon be traveling to the Cape Cod League where he will play for the Wareham Gatemen. He will get the chance to face and play with some of the nation's best. He'll try to continue developing his skill set.
Next year, Duran will have a new role. The Dirtbags will lose Daniel Jackson and possibly middle-of-the-lineup bats Lucas Tancas, Ramsey Romano, Brock Lundquist and Luke Rasmussen. Junior catcher David Banuelos will be gone for sure. Teammates will no longer turn to those guys or star shortstop Garrett Hampson the year before. It will be Duran they look to for guidance.
"I'm going to have to become a leader next year," Duran acknowledged. "From DJ, Tancas, all the older guys teaching me, putting me under their wing, I'm going to have to help this team come back next year strong. I know what it takes to get here, so I'm going to bring that back to the table."
Sheaks is Solid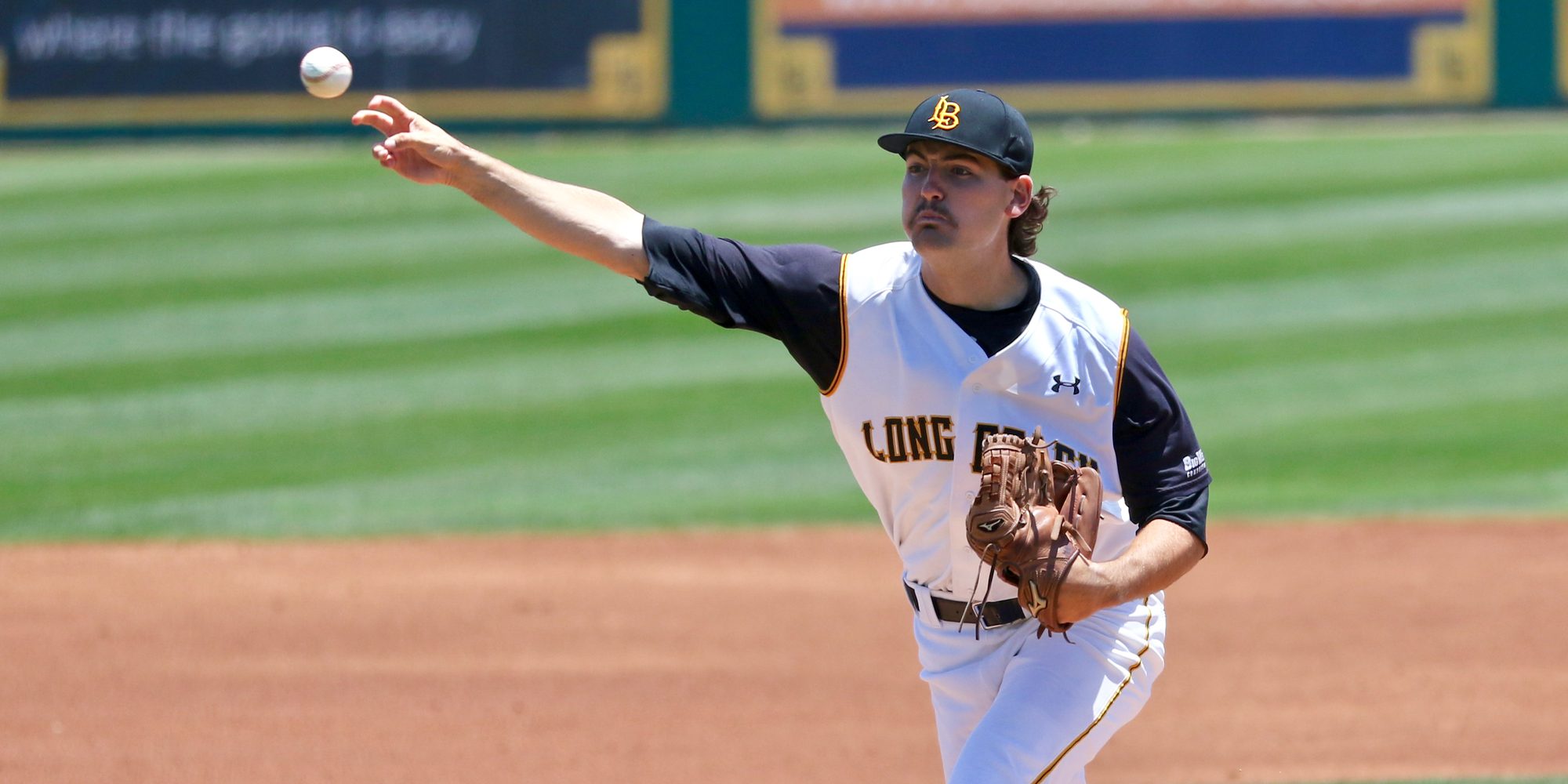 John Sheaks took the loss despite pitching well. (Shotgun Spratling)
Following Saturday's loss, Troy Buckley didn't know who the Dirtbags would start on Sunday. It was going to be normal Saturday starter John Sheaks or Tyler Radcliffe, who was a regional revelation last week against Texas striking out six of the first 10 batters en route to a solid five-inning, two-run outing that gave Long Beach State what it needed — a chance.
That's all you can ask in a win-or-go-home situation like the Dirtbags faced again in Game 3 of the super regional. That's exactly what Sheaks provided.
"I thought he was great," Buckley said. "I thought he gave us a really good chance to win."
Buckley was prepared to throw both Sheaks and Radcliffe, if needed, but Radcliffe had made one career start compared to 21 career relief appearances. He was accustomed to coming out of the bullpen while Sheaks has only started in his Long Beach State career. It didn't make sense to force both into new roles given the situation.
Radcliffe was available if the Dirtbags needed to make a quick change, but it proved unnecessary. Sheaks gave up just two hits in five innings.
"It was a big deal for me to get the start," Sheaks said. "I knew I needed to go out there and give [my team] the best opportunity to win. I felt great. I was able to throw the ball down."
Unfortunately, the first hit of the game, by either team, came in the fourth inning after Shaeks hit two batters and a sacrifice bunt had put two runners in scoring position.
"It kind of sucks that they got the timely hit after the two hit by pitches, but it was great to be a part of all it," Sheaks said.
Incredible Atmosphere
Occupancy for Blair Field was at 88 percent for the regional and super regionals (Shotgun Spratling)
If you were to walk through the Blair Field gates in the minutes leading up to first pitch or any time in the next four hours on Sunday, you would never know Southern California's reputation for lackluster college baseball attendance and passion.
The place was rocking from start to finish.
Chants flowed back and forth between each team's fans. The stadium vibrated with foot stomping. Nervous Nellies hid their faces in big situations while other fans grew only louder. Standing ovations were given for sacrifice bunts. When Long Beach State threatened in the eighth inning, the press box rumbled with the sounds of an approaching tornado.
The Fullerton fans were still cheering 20 minutes after the game. The core group of the Dirtbag faithful waited around until the team finished its post-game team meeting in the outfield so it could cheer the players one final time as they walked off the field.
It wasn't just the Game 3 of a super regional. The atmosphere has been electric for two weeks. In 10 games during the regional and super regional, the average attendance was 2,516 for a stadium that sells out at 2,867. The Dirtbags set a school record for regional attendance and broke the single series attendance record with 8,498 seats filled this weekend — besting the previous mark of 8,035 (also against Fullerton, as are the top seven series).
We will go to a final game on Monday. @LBDirtbags win and the home crowd goes wild: pic.twitter.com/RAbx5boPMq

— Shotgun Spratling (@ShotgunSprD1) June 5, 2017
San Diego State head coach Mark Martinez said it matched the environment the Aztecsexperienced when they were sent to the Lafayette Regional in Louisiana a couple of years back. Texas played in front of larger crowds in the Big 12 tournament and have to play in some challenging environments going to Lubbock and Fort Worth among others, but the Longhorn coaches and players were impressed by the passion of the fans at Blair Field.
"They're loud and they like to yell," said Texas outfielder Zane Gurwitz.
I've covered college baseball primarily in Southern California for the last seven years and the atmosphere at Blair Field the last two weeks is the best I've ever seen on the West Coast. Vanderhook has seen much more college baseball in the area than have I.
"Today was probably the most energetic college baseball game in the history of Southern California," he said. "It's hard inside [the dugout] to hear the crowd, but I don't think they ever stopped. It was back and forth. That's what it's supposed to be like."
Rivalry Refreshed
The rivalry was taken to a new level this weekend. (Shotgun Spratling)
For 20 years, Long Beach State was a national program under Dave Snow and Mike Weathers, producing 17 NCAA tournament appearances, eight conference titles and four trips to the College World Series. But after back-to-back losing seasons in 2009 and 2010, Buckley was tabbed to return the program to prominence. Buckley has had a winning record in each of his seven seasons as head coach, but it took the Dirtbags until his fourth season to return to the postseason. This season was the first since 2008 that Long Beach State had hosted a regional. It had been since 2004 for hosting a super regional.
When he returned as associate head coach and during his first few seasons, Buckley and the Dirtbags were not on par with their Big West rivals. Cal State Fullerton dominated the rivalry. The Titans were 22-3 from 2009 to 2013. The Dirtbags won their first series since 2008 the next season and split the season series.
It wasn't until this year that Long Beach State finally was able to take the season series. Even with Fullerton winning the super regional series, the Dirtbags finished with a 6-3 season record against it.
"They happened to win a weekend series at the right time and give them credit for it," Buckley said. "As far as the rivalry and all of that, I think we've done our job to get it back to being competitive. It was not that way in 2009, 10, 11, 12. It is that way now. A lot of tight games. Even the games we won could have gone either way."
Richards, a senior who also played his high school ball literally across the street at Long Beach (Calif.) Wilson, has seen the progression as the Dirtbags have closed the gap.
"In the four years that I've been here, this has probably been the most competitive and best Long Beach State baseball team we've played."
Buckley doesn't believe Long Beach State's next step is pushing past Fullerton. He thinks it has done that by winning the Big West and the season series this year. But it could also be reasonably argued while the competition level is now even, the Titans stole this season back from their rival with the super regional victory.
"This is a huge rivalry for us," Richards said. "No better way to do it than to beat them at their field to get to go to Omaha one last time, finish my career here with Long Beach State/Fullerton in a super regional at Blair. Nothing feels better than winning on Blair Field. That was amazing."
"That's how you kind of leave your mark here at Cal State Fullerton."
SEC Selection Committee
If it weren't for some curious decision by the NCAA selection committee, Long Beach State could have possibly faced Fullerton in Omaha. (Shotgun Spratling)
After seeing Fullerton and Long Beach State play such a dramatic finale with such an electric atmosphere and environment at Blair Field, it would be interesting to know if the NCAA selection committee views their work a success or a failure.
Sure, Blair Field has been great the last two weekends with several epic games, but it came at the expense of the West Coast as a whole. Seven of the nine West Coast teams were bracketed together in the coupled Stanford and Long Beach regionals, meaning that only one could make it to the College World Series.
"We displayed a really good regional and super regional," Buckley said. "That electricity should be blowing right through those HD TVs. We're good, they're good. I think everybody knows it, just nobody wants to play us. I think that's kind of how it works out."
Both Big West teams that made the tournament were placed in the two California regionals. Even if Cal State Fullerton and Long Beach State both won their regionals, the conference only had a shot at one potential spot in Omaha.
"It sucks that we only get two Big West teams and we get stuck playing each other because it would have been super fun playing in Omaha," Vanderhook said. "Us and Long Beach teeing it up in Omaha, that would be epic. It'll happen one day."
The Titans will fill the one spot slotted for the California regionals. When they get to Omaha, they will immediately face one of the only two other West Coast teams to make the tournament. Seven of nine West Coast teams fight for one spot and then have to immediately face one of the other two West Coast squads…of course.
"It sucks that the NCAA doesn't count the West Coast as being a baseball area," Vanderhook said. "We're treated like the red-headed stepchild. Just for some reason, we're not good enough to have teams. The SEC gets as many teams as the whole West Coast and we have two in.
"And we shouldn't have been matched up versus Long Beach. They should have sent us to play against their people, if that's what they want to do and bring them out here, but they choose not to do that. This has been going on for a long time."
Top Performances
Cal State Fullerton:
Colton Eastman: 7 IP, H, UER, 4 BB, 8 K, Win
Brett Conine: 2 IP, 3 H, 0 R, 0 BB, 3 K, Save
Hank LoForte: 1-for-4, 2 RBI
Timmy Richards: 3-for-4, 3 R, 2 RBI, BB
Long Beach State:
John Sheaks: 5 IP, 2 H, 2 ER, 2 BB, 4 K, Loss
Jarren Duran: 2-for-4, R, SB
Brock Lundqust: 1-for-2, 2B, 2 BB
In Their Own Words
Cal State Fullerton Post-Game Presser:
Long Beach State Post-Game Presser:
Photos
A couple of extra photos from Cal State Fullerton's 2-1 win over rival Long Beach State:
Dogpiles are in! (Shotgun Spratling)
A fired up Colton Eastman after finishing seven super regional innings. (Shotgun Spratling)
Rally belly…? The Dirtbag fans tried it all this weekend. (Shotgun Spratling)
Seniors Timmy Richards and Maxwell Gibbs are capping careers with a return to Omaha. (Shotgun Spratling)
Blonds do have more fun apparently. (Shotgun Spratling)
Sahid Valenzuela and Dillon Persinger scored Fullerton's only runs. (Shotgun Spratling)
Colton Eastman showed a lot of emotion. (Shotgun Spratling)
Brock Lundquist was twice stranded at third. Here he jogs home as a groundout ends the second inning. (Shotgun Spratling)
Brett Conine fires the final curveball. (Shotgun Spratling)
Join the Discussion