Atlanta Regional Preview: Prepare For Offensive Fireworks
Postseason
Checking The Field
Georgia Tech returns to the postseason after a two-year absence, earning the No. 3 national seed and hosting Auburn, Coastal Carolina and Florida A&M. With the Jackets and Chanticleers leading the charge, this figures to be a high-scoring regional.
1. Georgia Tech: Regular Season Results | Team Stats and Leaders
2. Auburn: Regular Season Results | Team Stats and Leaders
3. Coastal Carolina: Regular Season Results | Team Stats and Leaders
4. Florida A&M: Regular Season Results | Team Stats and Leaders
Atlanta Regional Superlatives
Most Exciting Player: Tristin English, 1B/RHP, Georgia Tech. English can impact the game with his quick, powerful righthanded bat as well as his power arm, which generates 91-95 mph heat and a putaway slider at the back of the Tech bullpen. He's the single most valuable player in this regional.
Best Hitter: Kyle McCann, C, Georgia Tech. Even though he sports a modest .297 batting average, McCann gets the nod because of his premium power: he leads all hitters in this regional with 23 homers and a 1.164 OPS. He's the most dangerous bat in this field.
Best Defensive Player: Will Holland, SS, Auburn. A quick-twitch athlete with excellent range, arm strength and instincts, Holland is fun to watch at shortstop, and he gets the nod here despite his fairly average .948 fielding percentage.
Best Pitcher: Connor Thomas, LHP, Georgia Tech. Thomas has been the rock in Georgia Tech's rotation for the last two years, posting a combined 203-29 K-BB mark in 201.1 innings as a sophomore and junior. He's a proven strike-thrower who eats up lefthanded hitters with his excellent slider from a deceptive low slot and has good sinking life on his 86-90 fastball.
X-Factor: Tanner Burns, RHP, Auburn. One of the top prospects for the 2020 draft, Burns has good command of an electric fastball at 91-95, a power breaking ball that flashes plus at 79-83, and a solid 83-84 changeup that has improved during his excellent sophomore year (2.80 ERA, 95 K in 74 IP). But he's been hampered down the stretch by shoulder soreness, which made him unavailable for last week's SEC tournament, making him the ultimate wild card in this regional. He's tentatively expected to pitch, but who knows how strong or how sharp he'll be?
Best Starting Rotation: Georgia Tech. This is an offense-heavy regional, so the Jackets get the nod by default. With Burns' status uncertain, Thomas is the most proven, reliable starter in this quartet, and righthander Amos Willingham pounds the zone with three solid pitches behind him in the rotation; he's better than his 5.40 ERA attests. The key is junior righty Xzavion Curry, who has been sidelined due to injury down the stretch but is expected to be back in action this weekend.
Best Bullpen: Georgia Tech. English has pitched his best down the stretch, giving the Jackets a stopper with high-end stuff at the back end. Blue-chip freshman lefthander Luke Bartnicki has also turned the corner in recent weeks, and seniors Keyton Gibson and Jonathan Hughes have blossomed into key bridge guys in the middle innings. It's still not a great bullpen, and Tech blew its share of leads earlier in the year — but this unit has peaked at the right time, and this pen is in the best shape of any in this regional at this critical juncture.
Best Offensive Team: Coastal Carolina. This one's a close competition between Coastal and Georgia Tech, who rank seventh and 18th in the nation in scoring, respectively. But we're giving the edge the Chants because their offense is on a ridiculous roll down the stretch, averaging a ridiculous 12.7 runs per game over its last nine contests, including a seven-game romp through the losers' bracket in the Sun Belt tourney. This is a deep, experienced lineup loaded with power, speed and on-base ability from top to bottom.
Best Defensive Team: Georgia Tech. The Yellow Jackets get a slight edge over Auburn, but both are solid defensive clubs. The Tech defense has really gelled since Luke Waddell shifted from second to short and Austin Wilhite slid to second base in the wake of a wrist injury; they form an excellent double-play tandem, and Jackson Webb and English are very sound on the corners. Austin's twin brother Nick Wilhite is a standout in center fielder with serious range, while McCann has grown into a satisfactory defensive catcher.
No. 1 Seed Win Probability (1-10): 6. Georgia Tech has the best balance of offense, defense and pitching in this field, and the Jackets have proven themselves over and over against top competition, including a 2-0 record in midweek action against Auburn. The Tigers have probably overachieved considering their injury issues on the mound and underperformance of some key bats, and Coastal underachieved for most of the season but is now looking more like the Top 25 team it was in the preseason, making the Chants a scary 3-seed.
Atlanta Regional Team Breakdowns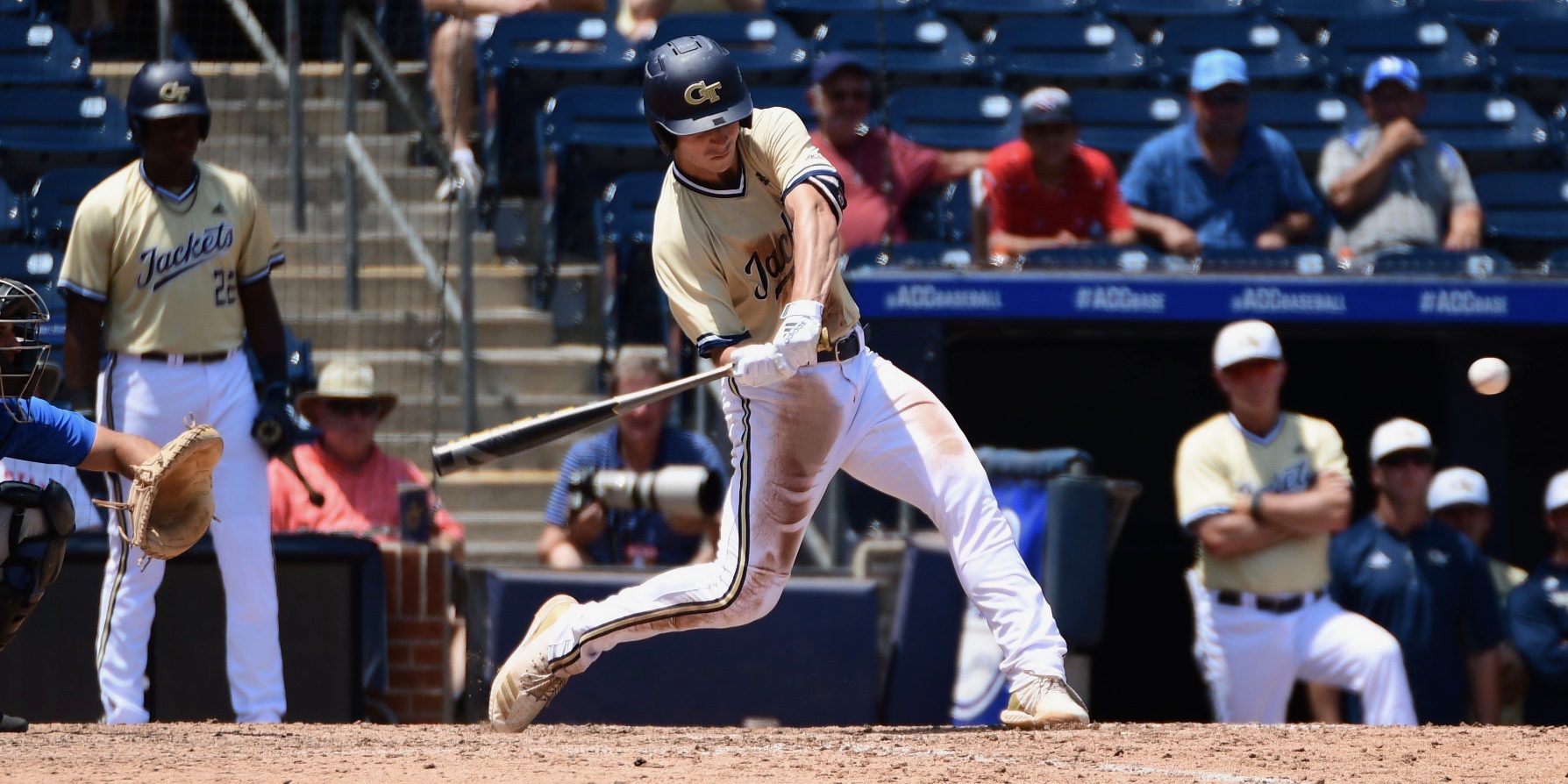 Georgia Tech two-way star Tristin English (Aaron Fitt)
Georgia Tech entered the season as an intriguing sleeper outside the preseason Top 25, and the Jackets far exceeded expectations, winning the ACC Coastal Division and racking up 12 wins against Top 25 teams in the RPI, helping them land the No. 3 national seed and snap a two-year regionals drought. …
Use the Coupon Code 2019Promo and get 25% Off an Annual Subscription!
--- Already a subscriber? Log In
.
Join the Discussion