2020 Frisco Classic Primer: Storylines And Stars To Watch
Weekend Spotlight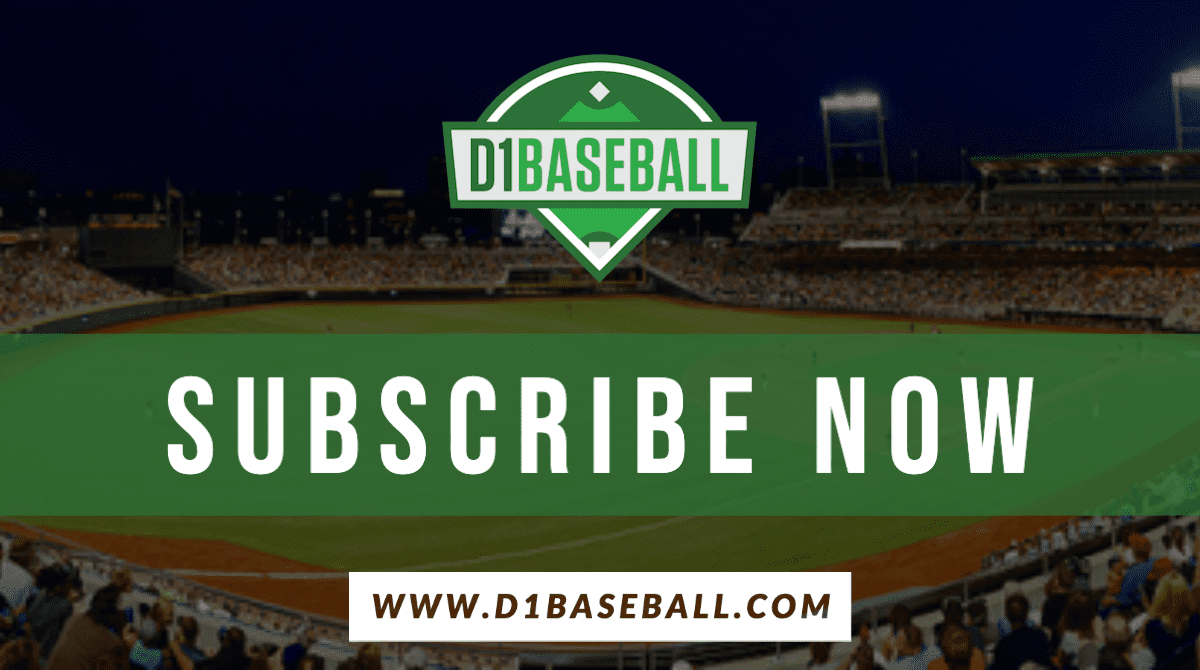 2020 Top 350 Prospects | 2021 Top 150 Prospects
---
The Frisco Classic is one of the premier tournaments on the college baseball calendar every year, and this year's field is particularly loaded. No. 10 UCLA and No. 18 Texas A&M both enter the weekend undefeated, with a combined record of 18-0. Oklahoma State was a preseason Top 25 team that rebounded from a rough opening weekend with a strong Week Two, and the Cowboys are knocking on the door of the rankings heading into Frisco. And annual Big Ten contender Illinois heads into the weekend with a 3-3 record following big wins over Coastal Carolina and West Virginia last week in Myrtle Beach.
You can order your tickets at the Frisco Classic website. Here's the full schedule:
Friday, Feb. 28
3 p.m. CT: UCLA vs. Oklahoma State
7 p.m. CT: Texas A&M vs. Illinois

Saturday, Feb. 29
2 p.m. CT: Illinois vs. Oklahoma State
6 p.m. CT: UCLA vs. Texas A&M
Sunday, March 1
11 p.m. CT: Illinois vs. UCLA
3 p.m. CT: Oklahoma State vs. Texas A&M
There are plenty of storylines and stars to get excited about watching in Frisco. Here are a half-dozen I've really got my eye on this weekend at Dr Pepper Ballpark:
1. The Saturday night showdown
It doesn't get much better than No. 10 UCLA (8-0) taking on No. 18 Texas A&M (10-0) on Saturday night, in front of what is expected to be a sellout crowd at Dr Pepper Park. The Bruins have been one of the nation's very best pitching staffs so far this season, ranking second in the nation with a microscopic 0.75 ERA and second with a 0.69 WHIP, while ranking sixth with 12.9 strikeouts per nine innings.
What makes this matchup so juicy is that the immovable object that is the UCLA pitching staff will take on the unstoppable force that is the Texas A&M offense. Ironically, offense was the biggest question mark facing these Aggies heading into the year, but they have feasted against softer competition in the early going, ranking third nationally in scoring (11.5 runs per game) and sixth in batting (.340), as well as eighth in slugging (.534) and even third in stolen bases (24).
UCLA sophomore righty Nick Nastrini (1-0, 2.08) will be tasked with slowing down that A&M offense. In my last look at Nastrini last summer in the Cape Cod League, he was very impressive, attacking the zone at 88-92 mph with advanced feel for his changeup and breaking stuff, and I'm eager to see how he has progressed since then.
Texas A&M's Christian Roa (Kendall Rogers)
A&M will counter with an emerging star in junior righty Christian Roa, who struck out 10 without issuing a walk over five strong innings last week against Army. In the all, the Aggies reported that Roa was the most impressive pitcher on staff, attacking at 91-94 and bumping 96 with two legitimate put-away secondary pitches in his curveball and changeup. I'm looking forward to seeing him for myself.
2. Marquee Friday arms
Both Friday matchups have serious star power on the mound. First, Oklahoma State lefthander Parker Scott will take on UCLA righty Zach Pettway, in a battle between two very polished, competitive strike-throwers. Scott is 2-0, 0.75 with 14 strikeouts and just two walks through 12 innings thus far, and our Shotgun Spratling described him as a "pitching yogi" after watching him put on a "masterclass" of pitchability in his first outing for the year. He won't overpower hitters with his mid-to-high-80s fastball velocity, but he competes hard and mixes in two quality offspeed pitches very effectively.
UCLA's Zach Pettway (Shotgun Spratling)
Pettway has an eye-popping 21-0 K-BB mark through 12.2 innings this young season, to go along with a 1-0, 1.42 line. Fastball command and life have always been his calling cards, and I'm eager to see how his secondary stuff has developed now that he's a seasoned junior.
The late game Friday features first-team preseason All-American Asa Lacy (2-0, 1.64, 22-3 K-BB in 11 IP) of Texas A&M taking on Illinois senior bulldog Ty Weber (2-0, 0.82, 9-1 K-BB in 11 IP). Lacy, of course, is simply one of the most talented pitchers in college baseball, a likely top-10 overall pick with an elite fastball and breaking ball from the left side. Weber has a much different style, a 6-foot-4 righty with a low three-quarters heater and advanced command of an 85-88 fastball and 77-78 slider.
3. Can DeLoach keep it up?
Texas A&M junior outfielder Zach DeLoach is one of the most intriguing players in college baseball. He was a sensation during preconference play as a freshman, then quickly fell back to earth against rugged SEC competition that spring, and slumped mightily to a brutal .200/.318/.294 line as a sophomore. He turned the corner in a big way last summer in the Cape Cod League, showing a glimmer of hope that he was ready to harness his exciting raw talent for real. So far this spring, he's done just that, hitting a ridiculous .586/.675/1.103 with four homers, 11 RBIs and four stolen bases in four tries. He'll face much better pitching this weekend than he has seen through his first 10 games, and I'm fascinated to see how he fares against high-end arms.
4. UCLA's new-look infield
Our Shotgun Spratling reported last night that UCLA defensive wiz Kevin Kendall is likely out for the rest of the season after having surgery on his wrist, and talented freshman Michael Curialle (who is hitting .321 with two homers and nine RBIs) is out this weekend due to a significant hip contusion. Kendall hasn't played yet this year anyway, but he was a reliable defender at shortstop in past years. I can't wait to see how sophomore Matt McLain (.387/.417/.645) looks at short after playing the outfield as a freshman. McLain, an unsigned first-round pick out of high school, is one of the nation's most talented players, and he's evidently made a big leap forward in all facets of his game after struggling with the bat as a freshman.
With Curialle sidelined, sophomore Mikey Perez figures to man second base, and he's plenty capable. I'm also looking forward to seeing redshirt freshman JT Schwarz and Jake Moberg at the infield corners; they were high-profile recruits who had to wait their turn on an older club last year, and now their time has arrived.
5. Illinois fireman Garrett Acton
The biggest name for the Illini is closer Garrett Acton, who led the nation with 19 saves a year ago, along with a 2.18 ERA. He's got two saves in two appearances so far this spring, and he's allowed just one hit and no runs. When we saw Acton last spring, he showed a 90-92 fastball with an above-average spin, along with a 78-80 curveball with excellent spin efficiency. Control has been an issue for him at times in his Illinois career, resulting in a high walk rate, but he has the swing-and-miss stuff to get himself out of jams with big strikeouts.
6. Oklahoma State's blue-chip newcomers
The Cowboys brought in the nation's No. 3 recruiting class last fall, and many of its high-profile newcomers have been thrown straight into the fire this spring. Scrappy, speedy freshman center fielder Caeden Trenkle wasn't one of the biggest names in the class, but he was a dynamo when I saw OSU in the fall, and he's gotten off to a stellar start to his career this spring, hitting .361/.395/.722 with two homers, three triples and eight RBIs. A 5-foot-10, 174-pound speed merchant, Trenkle is also a human highlight reel in center field.
Oklahoma State's Caeden Trenkle (Aaron Fitt)
Juco transfer Kaden Polcovich (.333/.523/.467) has also made a major impact, which is no surprise after he tore up the Cape Cod League last summer. He offers high-end bat speed, foot speed (5 SB) and a very good defensive skill set at second base.
Freshmen Justin Campbell and Bryce Osmond were the two crown jewels of this class, and both have gotten off to slow starts off the mound, as Campbell has a 9.00 ERA through two starts, and Osmond has a 7.50 mark in two starts. But Campbell has made a surprising impact with the bat, going 5-for-8 with a homer, three RBIs and four runs scored. But for the Cowboys to make a run at the Big 12 title this year, they really need Campbell and Osmond to settle in as reliable starters. At least two other key freshman arms, Kale Davis (3.52 ERA in 7.2 IP) and Wyatt Cheney (4.50 in 4 IP) are off to better starts. That quartet of freshman pitchers is a hugely important piece of OSU's foundation, both for the future and for the present.
Join the Discussion